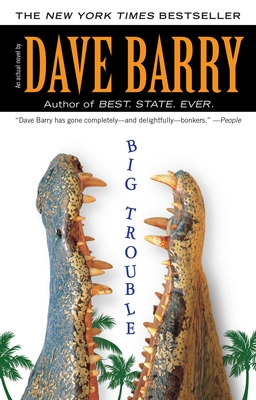 Big Trouble
Paperback

* Individual store prices may vary.
Other Editions of This Title:
Digital Audiobook (9/16/2008)
Digital Audiobook (12/31/2011)
Compact Disc (6/1/2014)
MP3 CD (6/1/2014)
Description
Dave Barry makes his fiction debut with a ferociously funny novel of love and mayhem in south Florida.

In the city of Coconut Grove, Florida, these things happen: A struggling adman named Eliot Arnold drives home from a meeting with the Client From Hell. His teenage son, Matt, fills a Squirtmaster 9000 for his turn at a high school game called Killer. Matt's intended victim, Jenny Herk, sits down in front of the TV with her mom for what she hopes will be a peaceful evening for once. Jenny's alcoholic and secretly embezzling stepfather, Arthur, emerges from the maid's room, angry at being rebuffed. Henry and Leonard, two hit men from New Jersey, pull up to the Herks' house for a real game of Killer, Arthur's embezzlement apparently not having been quite so secret to his employers after all. And a homeless man named Puggy settles down for the night in a treehouse just inside the Herks' yard.

In a few minutes, a chain of events that will change the lives of each and every one of them will begin, and will leave some of them wiser, some of them deader, and some of them definitely looking for a new line of work. With a wicked wit, razor-sharp observations, rich characters, and a plot with more twists than the Inland Waterway, Dave Barry makes his debut a complete and utter triumph.
G.P. Putnam's Sons, 9780425239476, 304pp.
Publication Date: July 6, 2010
About the Author
Dave Barry is a humor columnist. For 25 years he was a syndicated columnist whose work appeared in more than 500 newspapers in the United States and abroad. In 1988 he won the Pulitzer Prize for Commentary. Many people are still trying to figure out how this happened.
Dave has also written a total of 25 books, although virtually none of them contain useful information. Two of his books were used as the basis for the CBS TV sitcom "Dave's World," in which Harry Anderson played a much taller version of Dave.
Dave plays lead guitar in a literary rock band called the Rock Bottom Remainders, whose other members include Stephen King, Amy Tan, Ridley Pearson and Mitch Albom. They are not musically skilled, but they are extremely loud. Dave has also made many TV appearances, including one on the David Letterman show where he proved that it is possible to set fire to a pair of men's underpants with a Barbie doll.
In his spare time, Dave is a candidate for president of the United States. If elected, his highest priority will be to seek the death penalty for whoever is responsible for making Americans install low-flow toilets.
Dave lives in Miami, Florida, with his wife, Michelle, a sportswriter. He has a son, Rob, and a daughter, Sophie, neither of whom thinks he's funny.
or
Not Currently Available for Direct Purchase