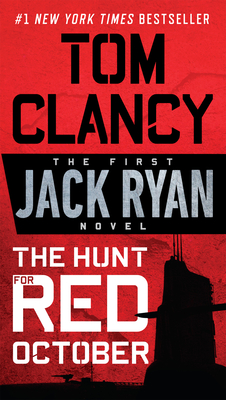 The Hunt for Red October (Mass Market Paperbound)
Berkley Books, 9780425240335, 656pp.
Publication Date: September 7, 2010
Description
The runaway bestseller that launched Tom Clancy's phenomenal career. A military thriller so gripping in its action and so convincing in its accuracy it's rumored that the White House debriefed the author. The theme: the greatest espionage coup in history. The story: the chase for a top secret Russian missile sub. Lauded by the Washington Post as "breathlessly exciting," The Hunt for Red October remains a masterpiece of military fiction by one of the world's most popular authors, a man whose shockingly realistic scenarios continue to hold us in thrall.
About the Author
Thirty years ago Tom Clancy was a Maryland insurance broker with a passion for naval history. Years before, he had been an English major at Baltimore's Loyola College and had always dreamed of writing a novel. His first effort, The Hunt for Red October--the first of the phenomenally successful Jack Ryan novels--sold briskly as a result of rave reviews, then catapulted onto the New York Times bestseller list after President Reagan pronounced it "the perfect yarn." From that day forward, Clancy established himself as an undisputed master at blending exceptional realism and authenticity, intricate plotting, and razor-sharp suspense. He passed away in October 2013.
Praise For The Hunt for Red October…
"Flawless…frighteningly genuine."—The Wall Street Journal

"Remarkable…intricate and nerve tingling."—Clive Cussler

"Gripping narrative…Navy buffs and thriller adepts have been mesmerized."—Time
Advertisement