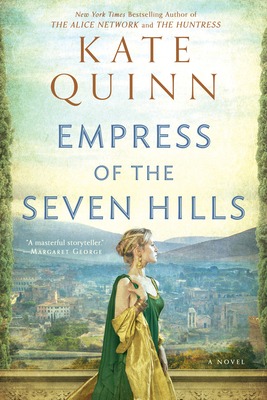 Empress of the Seven Hills (Paperback)
Berkley Publishing Group, 9780425242025, 502pp.
Publication Date: April 3, 2012
Description
A tale of love, power and intrigue from the USA Today bestselling author of The Alice Network

Powerful, prosperous, and expanding ever farther into the untamed world, the Roman Empire has reached its peak under the rule of the beloved Emperor Trajan. But neither he nor his reign can last forever...

Brash and headstrong, Vix is a celebrated ex-gladiator returned to Rome to make his fortune. The sinuous, elusive Sabina is a senator's daughter who craves adventure. Sometimes lovers, sometimes enemies, Vix and Sabina are united by their devotion to Trajan. But others are already maneuvering in the shadows. Trajan's ambitious Empress has her own plans for Sabina. And the aristocratic politician Hadrian--who is both the Empress's ruthless protege and Vix's mortal enemy--has ambitions he confesses to no one, ambitions rooted in a secret prophecy.
When Trajan falls, they all will be caught in a deadly whirlwind that may seal their fates, and that of the entire Roman Empire...
About the Author
Kate Quinn is a native of southern California. She attended Boston University, where she earned a Bachelor's and Master's degree in Classical Voice. A lifelong history buff, she has written four novels in the Empress of Rome Saga and two Novels of the Borgias, before moving to the 20th century with the The Alice Network. All her books have been translated into multiple languages.
Praise For Empress of the Seven Hills…
"The lives of an ambitious soldier, a patrician heiress and a future emperor fatefully intersect...Quinn handles Imperial Rome with panache."

"[An] epic, sexy romp—the long-awaited sequel to Daughters of Rome...Readers will delight in the depictions of historical figures like Hadrian and Trajan, as well as the engrossing and dramatic relationships that drive this entertaining story."
Advertisement