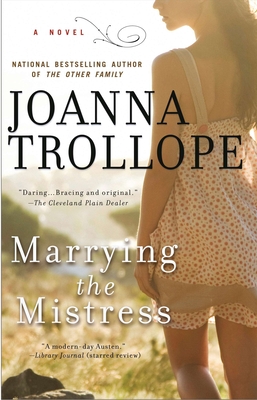 Marrying the Mistress (Paperback)
Berkley, 9780425242247, 352pp.
Publication Date: June 7, 2011
Other Editions of This Title:
MP3 CD (9/9/2014)
Paperback (6/1/2001)
Compact Disc (9/9/2014)
* Individual store prices may vary.
Description
"Just as one has forgotten the intense pleasure of reading Trollope, along comes another flawless novel." —
Library Journal (starred review)
"A pleasure to read." —The Washington Post
"Despite its title, Marrying the Mistress is no mere sexy romp detailing the lurid details of a juicy affair. Instead, Joanna Trollope offers a domestic drama that gives us an insider's view of what happens to a family when the respected head of the household—60-year-old judge Guy Stockdale—announces he is leaving his wife of 40 years to marry his much younger mistress, Merrion. From his teenage grandson who thinks it's cool that Gramps can still snag a hot young babe to his feisty daughter-in-law who sets up a secret meeting to check out the Other Woman, this is a nuanced tale that manages to be both familiar and surprising. What makes the situation complex—and the book beach-bag worthy—is that Merrion is far from the stereotypical villain/slut/husband stealer. She is intelligent, independent, successful and impossible not to like. Reading Marrying the Mistress is like spying on the neighbors that everyone on the street is gossiping about—without the guilt." —Salon.com
"A modern-day Austen." —Library Journal (starred review)
"Masterful storyelling and memorable characters…a wise and gently truthful take on a highly charged subject." —Kirkus Reviews (starred review)
"This novel should easily vault onto the bestseller lists." —Publishers Weekly (starred review)
"[Marrying the Mistress] must be the popular British writer's most daring novel, as well as one of her most interesting…bracing and original…Trollope at her most challenging and thought-provoking." —The Cleveland Plain Dealer
"Entertaining…great beach reading." —USA Today
"A novel rich in accurate, piercing detail of domestic life and populated with strongly developed, realistic characters…absorbing and excellent." —Booklist
"Splendidly nuanced." —Kirkus Reviews (starred review)
"A great beach or vacation read." —The Baltimore Sun
"Trollope again displays her extraordinary gift for representing the intricacies of familial relationships and the vicissitudes of domestic life…None of the themes here—betrayal and anger, the lovers' age difference, the grasping mother, the daughter-in-law's resentment—are terribly unusual, but Trollope's proven ability to present them intelligently, as moral and emotional tangles faced by thinking, interesting people, satisfyingly combines the universally recognizable and the intellectually engaging." —Publishers Weekly (starred review)
"Essential." —Library Journal (starred review)
About the Author
Joanna Trollope has been writing for more than 30 years. Her enormously successful contemporary works of fiction, several of which have been televised, include Other People's Children, Marrying the Mistress, Girl from the South, Brother & Sister, Second Honeymoon, and Friday Nights. She was awarded the OBE in 1996 for services to literature.
As Trollope portrays the dissolution of a marriage, she also explores the effects of that dissolution on the members of the families it affects. Discuss some of these effects, as well as the ways Guy and Merrion's respective family members cope with their relationship.
Three of Trollope's characters are mothers, yet each woman is markedly different. Discuss and compare Laura, Carrie, and Gwen's mothering styles. How has each, for better or worse, helped shape the lives and personalities of their children?
What do you think of Trollope's treatment of Laura? Do you think she is fairly drawn as a character? How do your feelings for her change over the course of the novel?
Compare the marriages of Guy and Laura, Simon and Carrie. What role does age and socio-economic background play in these relationships?
Likewise, compare the roles of the children of these marriages. How are Jack, Emma, and Rachel's relationships to their parents different from that of Simon and Alan?
Discuss Guy and Merrion's relationship. Do you think they were right in their decision not to get married? Does it anger you that their affair, which caused such turmoil in their families' lives, never ends in marriage? How large a role did the forbidden element of adultery play in their relationship? Was theirs a true love tragically thwarted by the constraints of society, or did they merely fill a void in each other's life?
Guy and Merrion's relationship begins to change after Jack seeks out his grandfather's help with his own romantic problems. Why is this such a pivotal event? What impact does Jack and Guy's new closeness have on Merrion?
Although the Stockdale family is not large, it extends through three generations, and nearly a dozen people. By contrast, Merrion's family is small—just her and her mother. How does having a family help, and hinder, Guy?
Of all the many different kinds of family relationships portrayed in the novel, discuss which, if any, you identify with—and why.
How do you think Trollope chose the title of this novel? What sorts of images does the word "mistress" invoke? Does Merrion seem to you like a typical mistress? Why or why not? What sort of comment do you think Trollope might be making about infidelity and marriage?
Imagine that Marrying the Mistress was made the basis for a debate about family values. How would that debate play out? What arguments does the novel provoke? Do you think it supports the idea of family values, or calls it into question?
or
Not Currently Available for Direct Purchase