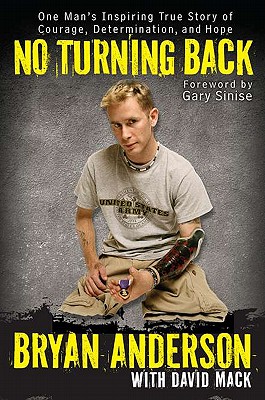 No Turning Back (Hardcover)
One Man's Inspiring True Story of Courage, Determination, and Hope
Berkley Publishing Group, 9780425243558, 235pp.
Publication Date: November 1, 2011
Other Editions of This Title:
Paperback (11/6/2012)
MP3 CD (6/14/2016)
* Individual store prices may vary.
Description
An exceptional memoir about one man's truly inspirational outlook on living, no matter the odds.
"Before you dig into this book, there are a few things I think you should know. First, I was a soldier, and I still talk like one-in other words, I swear. So, if bad words bother you, just squint and pretend you don't see them. "
"I want you to know this book is not about the war in Iraq, and I'm not pushing a political agenda. Even though I'm going to tell you about the day I was wounded and what I went through during rehab, this book's not just some war memoir or a pity party. I just want to share some of my stories with you. This book is not about being wounded. It's not about struggling. "
"This book is about living. It's about life."
In this inspiring memoir, Bryan shares his infectious love for life that touches anyone who's faced hardship. No Turning Back is a testament to pure hard work, perseverance, and hope for a better life- no matter what shape it takes.
About the Author
Bryan Anderson served two tours of duty in Iraq and was awarded a Purple Heart. A natural athlete, he snowboards, wakeboards, whitewater-rafts, and rockclimbs, among other sports. He lives in Chicago, Illinois.

David Mack is the national bestselling author of nearly twenty novels. In addition to novels, Mack's writing credits including television, film, short fiction, magazines, newspapers, comic books, computer games, radio, and the Internet. He lives in New York City.
Praise For No Turning Back: One Man's Inspiring True Story of Courage, Determination, and Hope…
"When I met Bryan Anderson, I knew I was meeting someone exceptional. He put me immediately at ease. Here he was, this triple amputee, with every reason to be pissed off at the world, meeting someone who never wore the uniform. He pulled himself up on the chair, smiled with that shit-eating grin of his, and told me his astounding story.
Bryan is among that rare breed of hero, that takes in all the worst the world can heap on you, and lets it make him stronger, and makes the rest of us want to be better....he will make you think, and he will make you laugh, and you will be better for having read [his book]."
--James Gandolfini
or
Not Currently Available for Direct Purchase