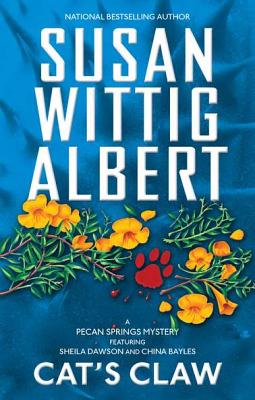 Cat's Claw (Hardcover)
Berkley Publishing Group, 9780425245279, 305pp.
Publication Date: March 6, 2012
* Individual store prices may vary.
or
Not Currently Available for Direct Purchase
Description
Police Chief Sheila Dawson believes the death of Pecan Spring's computer guru, Larry Kirk, to be a suicide, perhaps triggered by his painful divorce. Further investigation reveals that Kirk's death wasn't self-inflicted. And the truth is reinforced by her friend China Bayles' news-Larry recently asked her for legal advice in regards to a stalker.
As a police chief in a male-dominated force, Sheila meets many challenges, especially when her theories rock the boat in high profile cases like that of George Timms. He was caught breaking into Larry's computer shop to steal his own computer back because of dangerous personal information it contained. Now that Larry is dead, she's sure it's connected to the burglary. And she's also sure she'll get plenty of resistance on her assessment...
Timms's time to turn himself in to the police comes and goes, and he's nowhere to be found. In her investigation, Sheila uncovers secrets, terrible secrets that would drive anyone to kill. So who then? It's up to Sheila to prove she's got what it takes to hunt down the predator that's loose on the streets of Pecan Springs...
About the Author
Susan Wittig Albert grew up on a farm in Illinois and earned her Ph.D. at the University of California at Berkeley. A former professor of English and a university administrator and vice president, she is the author of the China Bayles Mysteries, the Darling Dahlias Mysteries, and the Cottage Tales of Beatrix Potter. Some of her recent titles include" Widow s Tears," " Cat s Claw," " The Darling Dahlias and the Confederate Rose," and "The Tale of Castle Cottage." She and her husband, Bill, coauthor a series of Victorian-Edwardian mysteries under the name Robin Paige, which includes such titles as "Death at Glamis Castle "and "Death at Whitechapel.""
Advertisement