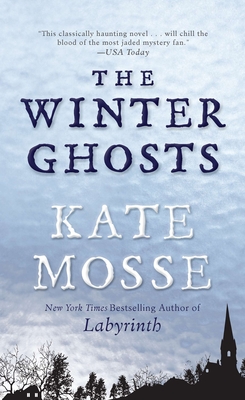 The Winter Ghosts
Paperback

* Individual store prices may vary.
Other Editions of This Title:
Digital Audiobook (2/2/2011)
Hardcover (2/3/2011)
Compact Disc (2/3/2011)
Paperback, Spanish (6/30/2012)
Description
From the New York Times bestselling author of Sepulchre and Labyrinth-a compelling story of love, ghosts and remembrance.
World War I robbed England and France of an entire generation of friends, lovers and futures. In Freddie Watson's case, the battlefields took his beloved brother and, at times, his peace of mind. In the winter of 1928, still seeking some kind of resolution, Freddie is travelling through the beautiful but forbidding French Pyrenees. During a snowstorm, his car spins off the mountain road. Freezing and dazed, he stumbles through the woods, emerging in a tiny village, where he finds an inn to wait out the blizzard. There he meets Fabrissa, a lovely young woman also mourning a lost generation. Over the course of one night, Fabrissa and Freddie share their stories. By the time dawn breaks, Freddie will have unearthed a tragic mystery that goes back through the centuries, and discovered his own role in the life of this old remote town.
By turns thrilling, poignant, and haunting, this is a story of two lives touched by war and transformed by courage.
Berkley, 9780425245293, 336pp.
Publication Date: February 7, 2012
About the Author
Kate Mosse is the author of the New York Times bestselling Labyrinth and Sepulchre and the Co-founder and Honorary Director of the prestigious Orange Prize for Fiction. She lives in England and France.
After he suffers a nervous breakdown on his 21st birthday, Freddie is hospitalized and says "Each tiny improvement in my health took me further from George and, in truth, his remained the only company I wished for. It felt like a betrayal to learn to live without him." Does that seem insane or simply a description of deep grief and loss? Would modern society treat Freddie's experience differently?
Fabrissa asks Freddie if he is an honest man who can "tell true from false." Is he? Why do you think she asks him?
The persecution of the Cathar community took place in the 14th century, but their "lost generation" resonates with Freddie in the 1920s, when England was struggling with the loss of a generation of young men during the Great War. What other "lost generations" do we know of? How does their experience touch our own?
"It is time to walk out of the shadows" is heard in a ghostly voice—which Freddie discovers if Fabrissa's—more than once in this novel. Does Freddie manage to walk out of the shadows by the end of the book? Does Fabrissa?
At the end of the novel, Freddie insists that although he knows all about "the tricks our minds can play on us, on our delicate, vulnerable, suggestible, shabby little minds." He's absolutely convinced that Fabrissa existed, and was not a hallucination or symptom of his fragile mental state. Are you?
Freddie tells Seurat that: "Life is not, as we are taught, a matter of seeking answers, but rather learning which are the questions we should ask." Is this true? What questions did Freddie ultimately learn to ask—and to not ask—and how did that change him?
or
Not Currently Available for Direct Purchase