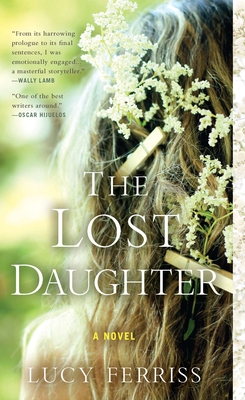 The Lost Daughter
Paperback

* Individual store prices may vary.
Other Editions of This Title:
Digital Audiobook (10/21/2012)
MP3 CD (10/22/2012)
Compact Disc (10/22/2012)
MP3 CD (10/22/2012)
Compact Disc (10/22/2012)
Compact Disc (10/22/2012)
Description
Brooke O'Connor—elegant, self-possessed, and kind—has a happy marriage and a deeply loved young daughter. So her adamant refusal to have a second child confounds her husband, Sean. When Brooke's high school boyfriend Alex—now divorced and mourning the death of his young son—unexpectedly resurfaces, Sean begins to suspect an affair.
For fifteen years Brooke has kept a shameful secret from everyone she loves. Only Alex knows the truth that drove them apart. His reappearance now threatens the life she has so carefully constructed and fortified by denial. With her marriage—and her emotional equilibrium—at stake, Brooke must confront what she has been unwilling to face for so long.
But the truth is not what Brooke believes it to be.
Lucy Ferriss's haunting novel reveals the profound ways in which remorse over the past can not only derail lives but also—sometimes—redeem them.
Praise For The Lost Daughter…
"From its harrowing prologue to its final sentences, I was emotionally engaged." — Wally Lamb

"One of the best writers around." — Oscar Hijuelos

"A complex, engaging novel about guilt, secrecy, and the mysteries of family…a courageous and thought-provoking writer." — Tom Perotta

"A tension-filled, beautifully written story." — Mary-Ann Tirone Smith, author of Girls of a Tender Age

"A moving tale of sin and redeptmion, motherhood and second chances." — Eric Goodman, author of Child of My Right Hand
Berkley, 9780425245569, 400pp.
Publication Date: February 7, 2012
About the Author
Lucy Ferriss has been writing fiction, poetry, and literary criticism for many years. In addition to five previous novels and a collection of short fiction, she has also published a work of literary criticism and dozens of short stories, poems, articles, essays, and book reviews. She has two sons and teaches at Trinity College in Connecticut. Visit her website at www.lucyferriss.com.
Discuss Alex and Brooke's shared experiences and how the past haunts each of them. How have they each tried to distance themselves? How have the events at the motel taken a toll on them since?
Sean's desire to have a second child causes splintering tension between him and Brooke. Do you understand or sympathize with his pain, reasoning, or persistence? Why or why not? Is it this tension that drives him to drink?
How do Brooke's life and future plans change after the birth of Najda? What drives the new decisions she makes—from her choice about college to her overall attitude?
How would you describe a mother? How does Najda's understanding of what a mother is evolve in the book?
Even though adoption is commonplace today (and, as the author reminds us, it finds a well-rooted model in Moses' early story), stigmas still face adopted children and their families. Why do you think this is? How do these families respond or compensate?
Discuss Luisa's role as Najda's rescuer, advocate, and parent. What kind of unique challenges does she face in raising Najda, who has disabilities herself? Does she experience any limitations? As a parent with Down syndrome, how does Luisa provide for and raise her daughter? How does her family work together to help her?
Compare the men in Brooke's romantic life: Sean and Alex. What kind of life does each offer Brooke? What kind of behavior does each elicit from her? Does she give something up when she commits to her marriage?
What does Brooke feel is at risk in telling Sean the truth – about her past actions, Alex's new role in her life, her investigation?
Why does Alex insist on coming clean to the authorities? What good does he think it will do? And once he learns the truth from Brooke after her search, why does he have such a hard time accepting the evidence?
Do you think Brooke and Alex should have been charged with a crime? Why or why not?
A few of the main characters wish for rescue in the novel, as suggested by Brooke's fascination with tales of knights and maidens, and Najda's dreams of being saved by her unknown, "normal" mother. How do these desires change by the end of the novel? Why?
How do Brooke, Sean, and Alex evolve over the course of the novel? What does each of them confront as the past comes to light? Do you think they can finally move forward freely with the truth now out in the open? Why or why not?
What do you think lies in store for each of the characters? Do you think Najda has forgiven her biological parents for their actions? Have they forgiven themselves?
or
Not Currently Available for Direct Purchase