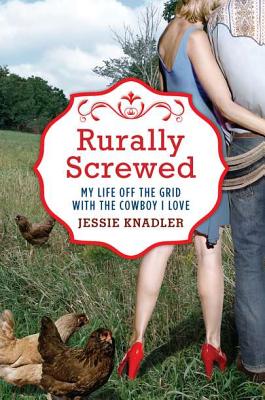 Rurally Screwed (Hardcover)
My Life Off the Grid with the Cowboy I Love
Berkley Publishing Group, 9780425245682, 324pp.
Publication Date: April 3, 2012
Other Editions of This Title:
Paperback (4/2/2013)
* Individual store prices may vary.
Description
Jessie Knadler was a New York City girl, through and through. An editor for a splashy women's magazine, she splurged on Miu Miu, partied hard, lived for Kundalini yoga, and dated a man-boy whose complexion was creamier than her own. Circling the drain both personally and professionally, Jessie definitely wouldn't have described herself as "happy"; more like caustically content. Then one day, she was assigned a story about an annual rodeo in the badlands of Eastern Montana.
There, she met a twenty-five-year-old bull rider named Jake. He voted Republican and read "Truck Trader." He listened to Garth Brooks. He owned guns. And Jessie suddenly found herself blindsided by something with which she was painfully unfamiliar: a genuinely lovable disposition. In fact, Jake radiated such optimism and old-school gentlemanliness that Jessie impulsively ditched Manhattan for an authentic existence, and an authentic man. Almost overnight, she was canning and sewing, making jerky, chopping firewood, and raising chickens. And all the while one question was ringing in the back of her head: "What the #*$ have I done with my life?"
A hilarious true-life love story, "Rurally Screwed" reveals what happens to a woman who gives up everything she's ever known and wanted-job security, money, her professional network, access to decent Thai food-to live off the grid with her one true love (and dogs and horses and chickens), and asks, is it worth it? The answer comes amid war, Bible clubs, and moonshine.
About the Author
Jessie Knadler is a writer whose articles and stories have appeared in publications ranging from the "Wall Street Journal" to "Glamour." She is the coauthor of the preserving cookbook "Tart and Sweet." Her blog rurallyscrewed.com has been featured in Newsweek and French "Elle" and on Jezebel.com. She lives with her husband, her daughter, and a bunch of chickens in Lexington, Virginia.
Praise For Rurally Screwed: My Life Off the Grid with the Cowboy I Love…
"Jessie Knadler's story about leaving the glossy office buildings and late nights of Manhattan to take a chance on love and create a new life in rural Lexington, Virginia sounds like something out of a movie. But as Rurally Screwed shows, the most unexpected life events and happiest endings—not to mention the hottest cowboys—don't just appear on the silver screen. Jessie takes a lively, self-deprecating yet thoughtful approach to her particular fish out of water tale. I laughed, winced and nodded my head in agreement more times than I can count. But most importantly, she shows that risks have their rewards, that it is possible to leave the worst of one's old life behind without abandoning the best of oneself." --Anna Holmes, founder of Jezebel.com


"Jessie Knadler's memoir, Rurally Screwed: My Life Off the Grid with the Cowboy I Love, is more than a fast-paced ride through the rodeo scene of relationships from Manhattan to Montana, but an examination of American life, the things we take for granted, and the things we ought to cherish. Reading about Knadler's search for inner peace helped this reader find some too."--Siobhan Fallon, author of You Know When the Men Are Gone


"Hilarious, romantic, and real. Jessie Knadler's writing made me feel every single emotion of her journey from the big city to the deep country—only I didn't have to kill a single chicken or ride an actual horse. Although I may have fallen in love with her husband a little bit."--Lara Naaman, Writer/Producer, Good Morning America


"At once brutally honest and over-the-top hilarious, Rurally Screwed is the most engaging and relatable book about marriage I've ever read. And I've read most of them. Knadler takes readers on a journey from her stalled life as a New York City single girl to the wilds of Virginia, where she settles down with a cowboy, eighty some chickens and a cellar stocked with moonshine. Along the way, she learns there's nothing romantic about chopping firewood and nothing easy about being married—but that after the sweat dries, the rewards of both are pretty awesome. Anyone who is married, has ever been married, or is considering one day getting married, has to read this book."--Paula Szuchman, co-author of It's Not You, It's the Dishes


"This book is really a love story. It's about falling for an unexpected person, learning to love a new place, and when life gets tough, figuring out what the heart really wants. I started out laughing and ended with a lump in my throat. And because the tale is told with such humor and searing honesty, you'll grow so attached to Jessie and Jake, you'll be tempted to move off the grid with them." —Amy Spencer, author of Bright Side Up
or
Not Currently Available for Direct Purchase