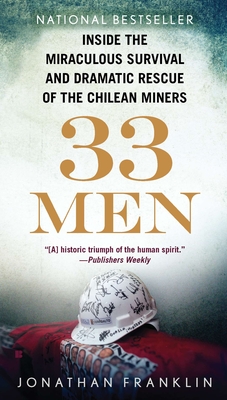 33 Men: Inside the Miraculous Survival and Dramatic Rescue of the Chilean Miners (Mass Market Paperbound)
Inside the Miraculous Survival and Dramatic Rescue of the Chilean Miners
Berkley Books, 9780425246863, 336pp.
Publication Date: October 4, 2011
Description
Award-winning journalist Jonathan Franklin chronicles the harrowing account of the 33 Chilean miners who were trapped underground for fourteen weeks in the fall of 2010.
Franklin, with his renowned eye for detail and dialogue, captures the remarkable story of these men to reveal to the world how they used their native talents to survive against all odds in a savage environment.
About the Author
Jonathan Franklin has lived in Chile for more than fifteen years, twelve of those as The Guardian (UK) correspondent for Chile.Granted a Rescue Team credential at the site of the Chilean mine disaster, his dispatches ran in The Guardian, The Washington Post, The Observer (UK) and The Sydney Morning Herald. As cameraman at the mine, he filmed exclusive footage for ABC News, CNN International, Univision and the Discovery Channel.Fluent in Spanish, Franklin has covered events ranging from the arrest of Augusto Pinochet to the inner workings of the cocaine trade during his years in South America. His features are regularly published in GQ, Esquire, Marie Claire, Playboy and many other magazines. As cofounder of www.AddictVillage.com, Mr. Franklin travels throughout Latin America to produce reports for magazines and newspapers worldwide. His investigative reporting has been used by ABC s Nightline, CBS s 60 Minutes, A&E, the BBC and numerous documentary productions worldwide.An American who was raised in Lincoln, Massachusetts, and attended Brown University in Providence, Rhode Island, Franklin moved to Chile in 1994 and currently resides in Santiago with his wife, Toty Garfe, and his six daughters. "
Advertisement