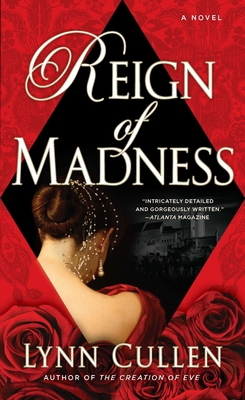 Reign of Madness
Paperback

* Individual store prices may vary.
Other Editions of This Title:
Digital Audiobook (9/15/2011)
Hardcover (8/4/2011)
Description
From the author of
The Creation of Eve
, "an intoxicating tale of love, betrayal and redemption,"*
comes a novel of passion and madness, royal intrigue and marital betrayal, set during the Golden Age of Spain.
Juana of Castile, third child of the Spanish monarchs Isabel and Fernando, grows up with no hope of inheriting her parents' crowns, but as a princess knows her duty: to further her family's ambitions through marriage. When she weds the Duke of Burgundy, a young man so beautiful that he is known as Philippe the Handsome, she dares to hope that she might have both love and crowns. He is caring, charming, and attracted to her—seemingly a perfect husband.
But when Queen Isabel dies, the crowns of Spain unexpectedly pass down to Juana, leaving her husband and her father hungering for the throne. Rumors fly that the young Queen has gone mad, driven insane by possessiveness. Locked away in a palace and unseen by her people for the next forty-six years, Juana of Castile begins one of the most controversial reigns in Spanish history, one that earned her the title of Juana the Mad.
*The Washington Post

A Best of the South 2011 selection by Atlanta Journal Constitution
Praise For Reign of Madness…
"From such rich history, Cullen imagines an even richer fiction…[She] has created another masterstroke of historical romance. In full service to the story, perfect sentences are strung together like so many pearls."
—Atlanta magazine
"One of the greatest love stories I have ever read…Captivating."
—Bella Online
Berkley, 9780425247310, 464pp.
Publication Date: May 1, 2012
About the Author
Lynn Cullen is the author of The Creation of Eve, named among the best fiction books of 2010 by the Atlanta Journal-Constitution. She is also the author of numerous award-winning books for children, including the young adult novel I am Rembrandt's Daughter, which was an ALA Best Book of 2008. An avid traveler and historian, Cullen lives in Atlanta.
From a young age Juana and Diego are drawn to one another. What similarities do they share that enable them to identify with each another? What could have inspired Diego's loyalty to stay so strong even during Juana's marriage and long absence?
Tanta monta, monta tanto, Isabel como Fernando. "Isabel and Fernando, they amount to the same thing." Both in historical and fictional representation a great deal of emphasis was placed on the equality of Isabel and Fernando. In what ways did this emphasis create inequality between them? Did it create an imbalance solely in their personal lives, or was a disparity evident politically as well?
Philippe's own grandmother characterizes him as "a man whose appetite grows larger from eating." Discuss what could cause a man who was happy with his status as an archduke to be unsatisfied with his role as a King-consort?
Throughout the story, how does Juana's perspective of marriage change, particularly her views of the role of a wife in relation to her husband? How does becoming a mother affect her marriage?
In what ways does Isabel admitting her shortcomings affect Juana's perspective of her parents? Of her own situation? Is it possible for even grown children to fully understand and accept their parents' strengths and weaknesses?
Through the romantic relationships depicted, Reign of Madness takes a close look at the gray areas of love and fidelity. Isabel, Fernando, Philippe and Juana each have some form of extramarital affair or attachment. How do these affairs differ from one another? Due to the political contexts of arranged court marriages, would you consider love or happiness possible within one of these marriages?
Balancing power and love in a relationship is not a problem isolated to kings and queens. How does this struggle manifest itself in modern relationships?
In what ways are Juana's roles as wife and ruler at odds with one another? What kind of conflict does this create for her?
In the author's note, it is stated that Beatriz did, in fact, become a professor at University of Salamanca in addition to marrying Francisco Ramirez. In the novel, how does Beatriz's quest for academic achievement stand in contrast to the romantic relationships occurring around her and Juana?
One of the themes of Reign of Madness involves the power of perception over reality. The strength of the Spains, Isabel's claim to her crowns, and Juana's own stability are all subject to public perception. In Cullen's imagining, creating a perception of the young queen as unbalanced was frighteningly easy. How important is perception? Can it be more important than reality?
or
Not Currently Available for Direct Purchase