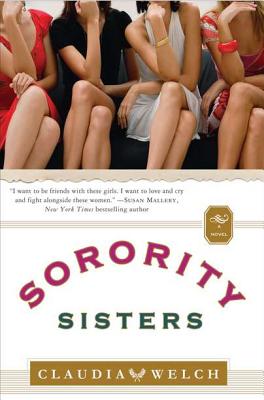 Sorority Sisters
Paperback

* Individual store prices may vary.
Description
In 1975, trying to find a place to belong, four young womenfound each other in the same sorority pledge class. Through parties andpranks; finalsand skipped classes; boyfriends and break-ups, they forge a bond that takes them by surprise. No one expected it to last beyond college graduation. But some bonds are too strong to break.
Now they re sisters. And with sisters, it's not about what happens. It's about no matter what happens.
Praise For Sorority Sisters…
"Claudia Welch is one of the most gifted authors writing today...Sorority Sisters took me back. I never wanted to come home."
Lori Handeland, New York Times bestselling author

"Claudia Welch nails the importance of the female tribe in every woman's life...Fabulous reading!"
Julia London, New York Times bestselling author

"Sorority Sisters is so much more and so much deeper than its title. It's a story about true friendship that will inspire and charm everyone who reads it...These girls sparkle with warmth and wit."
Liz Carlyle, New York Times bestselling author

"I'll read anything the brilliant Claudia Welch writes."
Sabrina Jeffries, New York Times bestselling author
Berkley Books, 9780425247433, 400pp.
Publication Date: June 5, 2012
About the Author
Claudia Welchgraduated from the University of Southern California with a BAin English. While there, she became a member of Alpha Phi, one of the oldest sororities in America. A two-time RITA finalist, she has won numerous writing awards and honors since her first novel was published in 2000 under a pseudonym. She has lived for most of her life in Los Angeles, called Connecticut home for a decade, and currently lives in North Carolina with her husband."
Who was your favorite character? Why?
Which character do you identify with the most strongly?
Each character, to some degree, feels her self-worth is determined by what a man thinks of her, particularly in terms of her beauty. Do you think this has changed or is the 21st century essentially like every other century?
Karen's mother is the most loving and involved of all the mothers represented yet she is a mixed bag. She reinforces the message that girls are judged by their looks; do you think this was kind of her or cruel? What was her motivation?
The four main characters are very different yet they are drawn together and form a firm, lifelong bond. What do you think it is that binds them?
The story is told from the perspective of four women. What was your impression of the men in the book?
Why do you think Karen was in love with Greg for so long? Why do you think she was unfaithful?
Doug Anderson plays a pivotal role in the lives of the women and in their relationship to each other. Have you ever had a man impact your female friendships like that?
Do you know anyone like Laurie, someone who is habitually attracted to the wrong sort of man, the kind who can't commit?
Ellen's self-esteem is bruised by her father's continual mocking of her appearance, yet she's a fighter by nature. Do you think she was successful in her ability to leave the messages of childhood behind?
In loving Megan, the women see echoes of themselves at her age. Has Megan learned from their experience? Do you think she loves and accepts herself more than they did at the same age? Is it possible for older women to teach younger women to like themselves?
What ideas did you have about sorority girls before reading the book? Did the characters change your perspective or reinforce it?
Did you ever consider joining a sorority? Why or why not? If you were in a sorority, are you happy you joined?
or
Not Currently Available for Direct Purchase