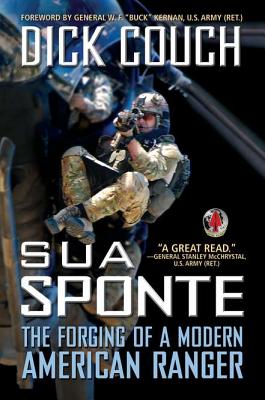 Sua Sponte: The Forging of a Modern American Ranger (Hardcover)
The Forging of a Modern American Ranger
Berkley Hardcover, 9780425247587, 384pp.
Publication Date: July 3, 2012
* Individual store prices may vary.
or
Not Currently Available for Direct Purchase
Description
Sua Sponte
Latin for Of Their Own Accord
The MOTTO OF THE 75TH RANGER REGIMENT
The 75th Ranger Regiment is a unique and distinct culture among the American military establishment. They stand alone, even among our other Special Operations forces, as the most active brigade-sized force in the current Global War on Terrorism. Since 9/11, The Regiment is the only continuously-engaged unit in the Army, and has had forty percent of its number deployed in harm's way for the last decade. Their mission is unique. Rangers do not patrol, they don t train allied forces, nor do they engage in routine counterinsurgency duties. They have a single-mission focus; they seek out the enemy and they capture or kill them. It sets Rangers apart as pure, direct-action warriors.
Army Rangers are not born. They are made. The modern 75th Ranger Regiment represents the culmination of 250 years of American soldiering. As the nation's oldest standing military unit, The Regiment traces its origins to Richard Rogers Rangers during the pre-revolutionary French and Indian War, through the likes of Francis Marion and John Mosby, to the five active Ranger battalions of the Second World War, and finally, to the four battalions of the current Ranger regiment engaged in modern combat. Over that period, a standard of professional excellence and the forging of that excellence is distilled in the selection, assessment, and training of today's Rangers.
Granted unprecedented access to the training of this highly-restricted component of America's Special Operations Forces in a time of war, retired Navy Captain Dick Couch tells the personal story of the young men who begin this difficult and dangerous journey to become a Ranger. Many will try but only a select few will survive to serve in the 75th ranger regiment. "Sua Sponte" follows a group of these aspiring young warriors through the crucible that is ranger training and their preparation for direct-action missions in Afghanistan against the Taliban.
About the Author
A 1967 graduate of the U.S. Naval Academy, Dick Couch served with the Navy Underwater Demolition and SEAL Teams. He led one of the only successful POW rescue operations of the Vietnam War, while a platoon leader with SEAL Team One in 1970.

On release from active duty in 1972, he joined the Central Intelligence Agency, where he served as a Maritime Operations Officer. He retired from the Naval Reserve in 1997 with the rank of captain. The author of numerous books and articles on military special operations, he serves as a consultant and keynote speaker on issues of tactical ethics and moral battlefield conduct. Dick and his wife Julia live in Idaho.
Praise For Sua Sponte: The Forging of a Modern American Ranger…
"For 250 years, Rangers have stepped forward to take on the toughest and most dangerous missions to defend America. Dick Couch has done us all a favor by taking us inside the way in which we select and train our contemporary Rangers. I read this book swelling with admiration for the young men who volunteer to serve in the Ranger Regiment. They deserve our heartfelt thanks for their service, just as Dick Couch deserves our thanks for Sua Sponte and this engaging 'insiders' account."-- Dr. Andrew Exum, author of This Man's Army


"An outstanding read for anyone considering the very challenging physical and mental rigors and high standards required to be part of this elite 'Brotherhood.'"-- Tim Abell, Actor/Producer and 2/75 Ranger


"Sua Sponte is a detailed and vivid look at how the Army Rangers train for war. Couch's nuts-and-bolts narrative is well-told with the perspective of an experienced special operator. He knows what he's looking at and reports it faithfully. It is informative and at times moving. Readers will learn what it takes to be an elite soldier, and how much work it takes to earn the title 'Ranger.'" -- Larry Bond, author of Exit Plan

Advertisement