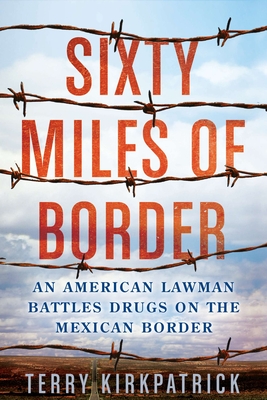 Sixty Miles of Border: An American Lawman Battles Drugs on the Mexican Border (Paperback)
An American Lawman Battles Drugs on the Mexican Border
Berkley Publishing Group, 9780425247624, 327pp.
Publication Date: July 3, 2012
* Individual store prices may vary.
or
Not Currently Available for Direct Purchase
Description
The border between the United States and Mexico is a no-man's land. Drugs, guns, and human beings are the cargo of choice in a multi-billion dollar illegal empire dominated by powerful cartels, murderous street gangs, and corrupt government officials.
Against them stand the Special Agents of the United States Customs Service men and women who fight to uphold the law and protect the U.S. on both sides of the border.
Terry Kirkpatrick worked one of the toughest jobs in America: a U.S. Customs agent on the border between Arizona and Mexico. He's seen it all and done more for over twenty years in a job that many officers quit before they make it six months.
These are the gritty and graphic true stories of Terry and his fellow Border Rats as they patrol America's modern badlands, where bullets are currency and blood is taken as payment. From the inhuman conditions people suffer under to get onto American soil, to working with blatantly crooked military leaders, to some of the most insane and unbelievable situations ever survived, readers will experience the chaos that has engulfed the U.S. border in the words of a man who has been there.
60 Miles of Border sheds an unsparing light into the life of customs agents, their dealings on the border, the effect on their daily lives and an unsparing look at one of the most hotly debated and controversial topics in modern America.
About the Author
Terry Kirkpatrick, started his career in law enforcement in 1978 as a city police officer and then became a Customs Inspector working the Port of Entry in Nogales, Arizona. Terry worked in Mexico throughout most of his career beginning his first tour in 1985. Following death threats, he was reassigned back to the Arizona. In August of 2001, Terry was assigned to the staff of the Commissioner of Customs in Washington D.C. After the tragic events of 9/11 he was made the National Program Manager of National Special Security Events. He returned to Nogales, Arizona in 2005 to finish his career in the same office where it began 28 years earlier. Today, Terry is the owner of the "Grumpy Gringo Fine Cigars" in Tubac, Arizona where he can be found smoking cigars and writing his books.
Advertisement