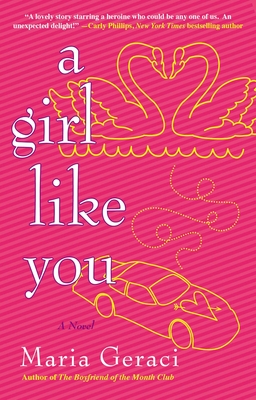 A Girl Like You
Paperback

* Individual store prices may vary.
Description
Every ugly duckling is a swan in waiting...

Emma Frazier is smart, hardworking, and loves her job as a journalist for a Florida lifestyle magazine. Emma knows she's no great beauty, but she's pretty certain she has a shot with her handsome new boss, Ben Gallagher—until Emma overhears a mutual acquaintance refer to her as the "ugly friend." In an effort to reclaim her battered self-esteem, Emma decides to impress Ben at work by promising an exclusive interview with NASCAR legend, Trip Monroe.

Emma and Trip went to high school together and although it's been fourteen years since they've spoken, Emma is certain she can score an interview with the elusive super star. But connecting with Trip turns out to be harder than Emma imagined. Her quest for the interview leads her back to her tiny hometown of Catfish Cove, where old secrets and a new romantic interest shake up Emma's views on life and teach her that maybe the key to finding true love is as simple as accepting yourself for the person you were always meant to be.
Praise For A Girl Like You…
"A lovely story starring a heroine who could be any one of us. An unexpected delight!" --Carly Phillips, New York Times bestselling author

"Maria Geraci writes with a vibrant, rich, contemporary voice that manages to be tender and hilarious at the same time." --Roxanne St. Claire, New York Times Bestselling Author

"If you're looking for an intense drama, I hate to disappoint you, but you won't find it in "A Girl Like You." It's a sweet, happy-go-lucky piece that was a pleasure to read and had me grinning from beginning to end. I definitely recommend it, especially if you want a feel-good chick lit novel to chill with during these hot summer days (or any other time of the year)." --Chick Lit Central

"Terrific....A Girl Like You is an intelligent, warm, funny novel." --Vibrant Nation

"Maria Geraci's back with another smart and funny novel.... Geraci's books are so addictive that once you've begun reading, you'll find yourself lost for hours in her heartwarming stories about flawed yet lovable characters….A sweet story about accepting yourself for who you are, A Girl Like You should be on your must-read list before summer ends." --She Knows

"Geraci is an excellent chick lit author, and I was charmed by this novel.....This is one for your to-read list! My favorite part about this book was the way that there was no clear-cut guy (at least in my opinion) for Emma. I kept changing my mind on who she was going to end up with, and without giving his identity away, I'll say it surprised me! That went for a lot of the book – just when I thought the plot would go one way, it twisted another. Love these types of books! Emma was a great lead, full of questions and concerns and had a very relatable attitude about life, career, and love, and this was a delightful chick lit read all around." --Chick Lit Plus
Berkley, 9780425247808, 320pp.
Publication Date: August 7, 2012
About the Author
Maria Geraci was born in Havana, Cuba, and raised on Florida's Space Coast. Her love of books started with the classic Little Women (a book she read so often growing up, she could probably quote it). She lives with her husband and their three children in north Florida where she works as a part-time labor and delivery nurse by night and a full-time romance writer during the day (sleep is not an option). Visit her websites at mariageraci.com, Facebook.com/MariaGeraciBooks, and Twitter.com/MariaGeraci.

or
Not Currently Available for Direct Purchase