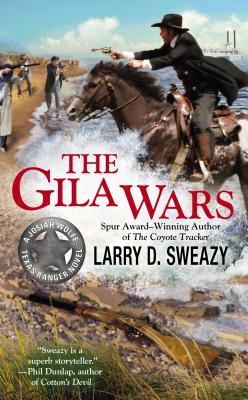 The Gila Wars (Mass Market Paperbound)
Berkley Books, 9780425250686, 290pp.
Publication Date: May 7, 2013
* Individual store prices may vary.
or
Not Currently Available for Direct Purchase
Description
Texas Ranger Josiah Wolfe and his friend Scrap Elliot are ready to extinguish the loathsome Juan Cortina. Unfortunately, their direct orders are only to spy on Cortina's cattle rustlers, which makes them two easy gringo targets. So much so that their first scuffle leaves Josiah seriously injured and Scrap on his own in his pursuit of Cortina.
Recovering from his deadly injury, Josiah is hit with a Dear John letter from his sweetheart. Luckily, a Mexican girl, Francesca, is there to help heal his wounds. But when Scrap returns full of malice directed toward his former comrade, Josiah can no longer tell who his friends are and where his heart lies. Only one thing is certain he must put an end to Cortina's reign before it's too late.
About the Author
Larry D. Sweazy won the WWA Spur award for Best Short Fiction in 2005, and the 2011 and 2012 Will Rogers Medallion Award for Western Fiction for the Josiah Wolfe series. He was nominated for a Derringer award in 2007, and was a finalist in the Best Books of Indiana literary competition in 2010 and 2011. He has published over 50 non-fiction articles and short stories, which have appeared in Ellery Queen s Mystery Magazine; The Adventure of the Missing Detective: And 25 of the Year's Finest Crime and Mystery Stories!; Boys Life; Hardboiled; Amazon Shorts, and several other publications and anthologies. He is member of MWA (Mystery Writers of America), WWA (Western Writers of America), and WF (Western Fictioneers). He lives in Indiana, with his wife, Rose, two dogs, Rhodesian ridgebacks, Brodi and Sunny, and a black cat, Nigel."
Praise For The Gila Wars…
Praise for Larry D. Sweazy Back-to-back winner of the Will Rogers Medallion Award   "A lively blend of mystery, action, and historical realism."—John D. Nesbitt, Spur Award–winning author of Trouble at the Redstone   "Top-notch Western entertainment."—James Reasoner, Spur Award–nominee and author of Redemption: Trackdown   "Raw, wild, and all too human."—Johnny D. Boggs, Spur Award–winning author
Advertisement