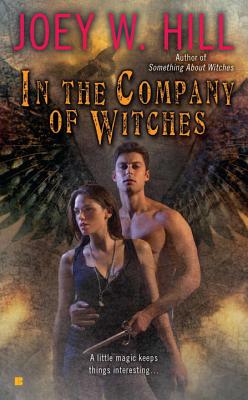 In the Company of Witches (Mass Market Paperbound)
Berkley Sensation, 9780425250846, 342pp.
Publication Date: May 1, 2012
* Individual store prices may vary.
or
Not Currently Available for Direct Purchase
Description
Experience Joey W. Hill's scintillating blend of modern-day witchcraft, ancient evil, and the magical tricks men and women play in the name of love...
All witch and part succubus, savvy businesswoman Raina has converted a Southern plantation house into an extremely profitable old-fashioned bordello. Because of her abilities as a witch, the demons under Raina's protection can feed off the sexual energy of their clients without killing them--definitely a good thing for repeat business.
But when a rogue incubus shows up on Raina's doorstep begging for asylum, the witch's well-run business is put in jeopardy. The incubus has stolen an object of great power from Lucifer, and Underworld Dark Guardian Mikhael will do anything to get it back--even if it means incinerating the incubus on Raina's porch to get the answers he seeks.
Not to be trifled with, Raina enters a dangerous match of wits with Mikhael to achieve their mutual goals--only to discover that the reluctant attraction between them is the most hazardous game of all...
About the Author
Joey W. Hill is the author of the Knights of the Boardroom series, the Vampire Queen series, and the stand-alone novel, Unrestrained. Having received multiple Top Reviewer Picks from RT Book Reviews, Night Owl Romance, ParaNormal Romance Reviews, TwoLips, and others, she has also been awarded the RT Book Reviews Career Achievement Award in Erotica.
Praise For In the Company of Witches…
"In theory, a story about a madam who runs a brothel full of demons and a sadistic guardian of the Underworld should not hold such appeal. But Joey W. Hill not only makes it work, she also creates characters with whom I would like to be friends.….Raina is hands-down one of the best female characters I have encountered in fiction. She is strong in witchcraft and in character and acts as a combination of mentor and mother for her succubi…. Mikhael makes the perfect foil for her by matching her in strength and allowing her to be vulnerable with him. Dominant to the core, he's able to give Raina the boundaries she needs to feel truly secure.…. I'm pleased to say [In the Company of Witches] exceeded my already lofty expectations….The release of the third book in the Arcane Shot series cannot happen soon enough for me." –All About Romance (Desert Isle Keeper review)

 "Joey W. Hill impresses me with every word she writes." --Joyfully Reviewed

"Everything Joey W. Hill writes just rocks my world." --Jaci Burton
Advertisement