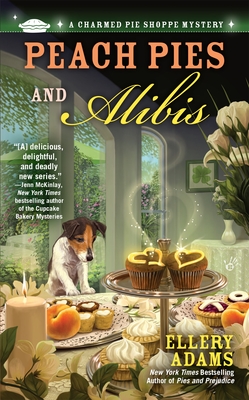 Peach Pies and Alibis (Charmed Pie Shoppe Mysteries) (Mass Market Paperbound)
Berkley Books, 9780425251997, 294pp.
Publication Date: March 5, 2013
Description
Ellery Adams serves up a mystery that's a real peach...

Ella Mae LeFaye's Charmed Pie Shoppe is wildly popular in Havenwood, Georgia--which is not surprising since Ella Mae can lace her baked goods with enchantments. The shop's extraordinary success seems destined to continue when Ella Mae meets an engaged couple who hire her to handle the dessert buffet at their wedding. But Ella Mae has a lot on her plate. She is also searching for the origin of her magical powers--and hoping to determine if the spark of attraction she feels for the handsome Hugh Dylan is authentic or just her new abilities gone awry. Then Ella Mae discovers a high-standing member of the community dead, and a wedding guest becomes seriously ill at the event she's catering. Now she'll have to use all her sleuthing skills and culinary talents to prove her pies don't contain a killer ingredient . . .
About the Author
Ellery Adams has had a lifelong love affair with both stories and food. As a child, she used to make mud pies and eat them. Over the years she became more adept in the kitchen and when she's not writing, loves to don an apron and fill her home with the sweet, buttery scent of baking pies. Ms. Adams has held many jobs including caterer, retail clerk, car salesperson, teacher, tutor, and tech writer, all the while penning poems, children's books, and novels. She writes and creates culinary delights from her home in central Virginia.
Praise For Peach Pies and Alibis (Charmed Pie Shoppe Mysteries)…
"[A] delicious, delightful, and deadly new series." —Jenn McKinlay, New York Times bestselling author of the Cupcake Bakery
Mysteries

"The Charmed Pie Shoppe has cast its spell on me! Ellery Adams brings the South to life with the LeFaye women of Havenwood. This new series is as sweet and tangy as a warm Georgia peach pie." —Krista Davis, author of the Domestic Diva Mysteries
Advertisement