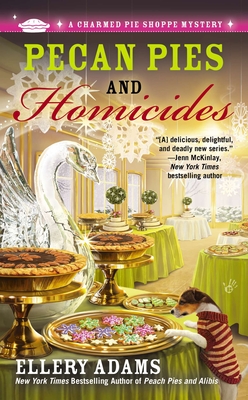 Pecan Pies and Homicides (Charmed Pie Shoppe Mysteries) (Mass Market Paperbound)
Berkley Prime Crime, 9780425252413, 293pp.
Publication Date: January 7, 2014
Description
Her Charmed Pie Shoppe is open for business, but baker Ella Mae LeFaye is about to discover solving a murder is not as easy as pie... Owning the Charmed Pie Shoppe and serving enchanted treats in the magical town of Havenwood, Georgia, seemed like a little slice of heaven for Ella Mae LeFaye. But now her hopes for both a lasting romance with Hugh Dylan and business success are starting to seem like pie in the sky, and Ella's left wondering: Where has the magic gone? When an enchanted grove is set ablaze, Ella realizes she has more grave problems. With her magic waning, she's going to have to sleuth from scratch to stop an arsonist who has no respect for sacred ground--or human life...
About the Author
Ellery Adams has had a lifelong love affair with both stories and food. As a child, she used to make mud pies and eat them. Over the years, she became more adept in the kitchen, and when she's not writing, she loves to don an apron and fill her home with the sweet, buttery scent of baking pies. Ms. Adams has held many jobs, including caterer, retail clerk, car salesperson, teacher, tutor, and tech writer, all while penning poems, children's books, and novels. She writes and creates culinary delights from her home in central Virginia.
Praise For Pecan Pies and Homicides (Charmed Pie Shoppe Mysteries)…
"[A] delicious, delightful, and deadly new series."—Jenn McKinlay, New York Times Bestselling Author

Praise for Peach Pies and Alibis

"An original, intriguing storyline that celebrates women, family, friendship, and loyalty within an enchanted world, with a hint of romance, an engaging cast of characters and the promise of a continued saga of magical good confronting evil."—Kirkus Reviews
 
"Adams permeates this unusual novel—and Ella's pies—with a generous helping of appeal."—Richmond Times Dispatch

 
Advertisement