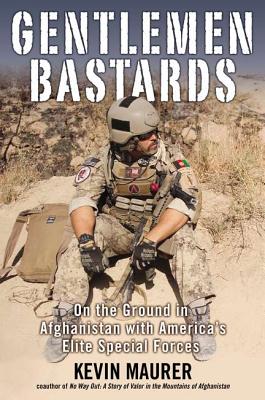 Gentlemen Bastards (Hardcover)
On the Ground in Afghanistan with America's Elite Special Forces
Berkley Caliber, 9780425252697, 242pp.
Publication Date: September 4, 2012
* Individual store prices may vary.
Description
The Green Berets a legendary corps of soldiers whose exploits made military history. But now, their very identity and role as a fighting force may be forever changed
Until the war in Iraq, Special Forces were the military's counterinsurgency experts. Their specialty was going behind enemy lines and training insurgent forces. In Afghanistan, they toppled the Taliban by transforming Northern Alliance fighters into cohesive units.
But in the almost nine years since, Special Forces units have forgone their previous mission, instead focusing on offensive raids. With time running short, the Green Berets are going back to their roots and have started to focus on training Afghan security forces and building an Afghan government one village at a time.
Award-winning journalist Kevin Maurer traveled with a Special Forces team in Afghanistan, finding out first hand the inside story of the lives of this elite group of highly trained soldiers. He witnessed the intense brotherhood built upon the Special Forces rigorous selection process and arduous training that makes them the smartest soldiers on the battlefield. He also discovered the boredom of chasing an elusive enemy and managing third world cops and the infighting between teammates and other units.
Nine years after the start of the Afghan war, Maurer delivers a compelling account of modern warfare and of a fighting force that is doing everything in its power to achieve victory on a complex twenty-first century battlefield.
About the Author
Kevin Maurer is an award-winning reporter who has covered special operations forces for seven years. He has been embedded with the U.S. Special Forces in Afghanistan six times in the last five years and spent a month with special operations units in Africa in 2006. Maurer covered the invasion of Iraq and Afghanistan s first parliamentary election. Most recently, he covered the Bush Administration s surge into Baghdad, and wrote the definitive piece about the transformation of Khost from a terrorist haven to a working province in Afghanistan."
Praise For Gentlemen Bastards: On the Ground in Afghanistan with America's Elite Special Forces…
"This story brings to life the unique men who form the ranks of the Green Berets and the Herculean tasks they must accomplish day in and day out, month after month, year after year." —Rusty Bradley, author of Lions of Kandahar

"[A] powerful look at Special Forces and the daily grind of tracking down the Taliban, terrorists, and other bad guys in Afghanistan. Maurer . . . skillfully weaves it all into a compelling narrative." —Mitch Weiss, Pulitzer Prize-winning journalist and critically acclaimed author of Tiger Force and No Way Out
 
"A true and refreshing narrative . . . Humorous, stark, and honest, Gentlemen Bastards shows the reality of the War in Afghanistan and proves that true, unbiased journalism is still alive."—Nathan Edmondson, author of The Activity
 
"An authentic insider's account . . . This is a compelling book."—David Zucchino, Pulitzer Prize winner and author of Thunder Run

"Maurer captures the humor of the Green Berets even while keeping his own self-deprecating, smart-ass-reporter, along-for-the-ride sensibility."—Kelly Kennedy, author of They Fought for Each Other
or
Not Currently Available for Direct Purchase