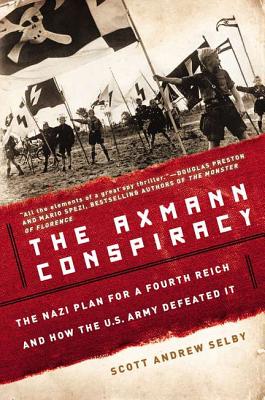 The Axmann Conspiracy (Hardcover)
The Nazi Plan for a Fourth Reich and How the U.S. Army Defeated It
Dutton Caliber, 9780425252703, 320pp.
Publication Date: September 4, 2012
Other Editions of This Title:
Digital Audiobook (5/6/2013)
Paperback (9/3/2013)
* Individual store prices may vary.
Description
A trusted member of Hitler's inner circle, Artur Axmann, the head of the Hitler Youth, witnessed the Führer commit suicide in Berlin—but he would not let the Reich die with its leader. Evading capture, and with access to remnants of the regime's wealth, Axmann had enough followers to reestablish the Nazi party in the very heart of Allied-occupied Germany—and position himself to become dictator of the Fourth Reich.

U.S. Army Counter Intelligence Corps Officer Jack Hunter was the perfect undercover operative. Fluent in German, he posed as a black marketeer to root out Nazi sympathizers and saboteurs after the war, and along with other CIC agents uncovered the extent of Axmann's conspiracy. It threatened to bring the Nazis back into power—and the task fell to Hunter and his team to stop it.

The Axmann Conspiracy is the previously untold true story of the Nazi threat that continued in the wake of World War II, the espionage that defeated it, and two fascinating men whose lives forever altered the course of history.

INCLUDES PHOTOGRAPHS AND MAPS
About the Author
Scott Andrew Selby is the co-author of Flawless: Inside the Largest Diamond Heist in History. He has a law degree from Harvard Law School and a Masters degree in Human Rights and Intellectual Property from the Raoul Wallenberg Institute at Sweden's Lund University, as well as a B.A. in Interdisciplinary Studies/Theories of American Culture from UC Berkeley. 
Praise For The Axmann Conspiracy: The Nazi Plan for a Fourth Reich and How the U.S. Army Defeated It…
Praise for The Axmann Conspiracy
 
"The Axmann Conspiracy is a well-documented history but reads like a thriller. In our troubled age, when anti-semitism is on the rise, this account of a would-be Fourth Reich and the men who foiled it is as timely as it is chilling and engrossing."—Dean Koontz
"Selby's account, of the soulless Nazi fanatics who slithered about the ruins of Germany seeking not survival but resurgence and restoration, unfolds as if in real time, vivid and chilling."—Hugh Ambrose, author of The Pacific
"The Axmann Conspiracy is a true story…never before told in such extraordinary detail. The Nazi plot to resurrect a Fourth Reich from the ashes of Berlin has all the elements of a great spy thriller."—Douglas Preston and Mario Spezi, bestselling authors of The Monster of Florence
"Astonishing…Selby recounts this true story with the excitement, tension, and drama of a spy novel.  It is an authentic tour de force, done with great skill and accuracy."—Bevin Alexander, author of Inside the Nazi War Machine
"How many novelists have imagined some diabolical villain who seeks the resurrection of the Nazis? None do justice to the heart-thumping true story of Axmann and his aim to do just that…Selby recounts this history with zeal and narrative verve."—Neal Bascomb, author of Hunting Eichmann
"Gripping…With the deft hand of a skilled researcher, Scott Selby brings to life one of the lost stories of World War II. A must read."—Gregory A. Freeman, author of The Forgotten 500
"Parts of The Axmann Conspiracy read like something out of a LeCarré spy novel."—Jim DeFelice, author of Omar Bradley: General at War
"A fascinating true story of insurgent Nazism with characters and twists as engrossing as any espionage novel."—Matthew Pearl, author of The Poe Shadow
or
Not Currently Available for Direct Purchase