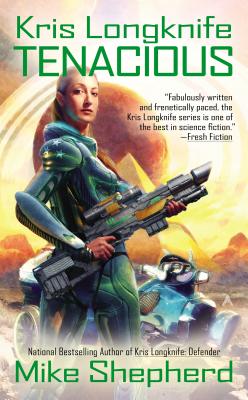 Kris Longknife (Mass Market Paperbound)
Tenacious
Ace Books, 9780425252901, 384pp.
Publication Date: October 28, 2014
Description
NATIONAL BESTSELLING SERIES
There's no rest for a Longknife even if you re a newlywed. Vice Admiral Kris Longknife's honeymoon gets cancelled when she hears that the space raider's home world may have been discovered. Finding where the raiders came from could be the key to saving humanity. If only uncovering their secrets was that easy
As Kris returns home, she ends up tangling with a mutinous crew determined to take off on their own. The dissident group leads Kris straight into a new mess a system filled with strange, deadly enemies poised to wipe another sentient civilization out of existence. Kris and her squadron are ready to prevent total annihilation, but the mutineers have other plans
About the Author
Mike Shepherdis the national bestselling author of the Kris Longknife series, includingDefender, Furious, andDaring, as well as the Jump Universe series, includingTo Do or Die andThey Also Serve, and the Vicky Peterwald series, includingTarget."
Advertisement