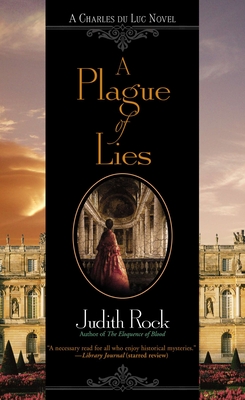 A Plague of Lies (A Charles du Luc Novel #3) (Paperback)
Berkley, 9780425253106, 368pp.
Publication Date: October 2, 2012
* Individual store prices may vary.
Description
In her historic mysteries The Rhetoric of Death and The Eloquence of Blood, Judith Rock created an atmosphere that "takes you back to fascinating and dangerous seventeenth-century Paris so well that I suspect her of being a time-traveler who's been there" (Ariana Franklin, national bestselling author of A Murderous Procession). Now, the latest novel to feature Charles du Luc finds the ex-soldier-turned-Jesuit caught up in royal intrigue...

Versailles, 1687

Madame de Maintenon is King Louis XIV's second wife. The daughter of a minor noble of ill-repute, she has not forgiven the king's Jesuit confessor for encouraging him to withhold the title of Queen from her. To placate her, the prestigious Louis le Grand Jesuit school has sent a delegation—including her distant cousin Pere Jouvancy and rhetoric teacher Charles du Luc—to Versailles with a gift of reliquary.

But while the Sun King's palace might be spectacular, this visit is anything but pleasant. Their first night, a courtier dies, and court whispers claim poison. Then the Jesuit delegation falls direly ill, and a palace gardener is found murdered. Fear grips a court already on edge. In the midst of all this, Charles learns that one of his students is in love with the king's rebellious (and betrothed) daughter, and may ruin not only himself, but all of them …
About the Author
For many years a modern dancer and choreographer, Judith Rock founded Body and Soul Dance Company in Berkeley, California, toured extensively as a solo concert dancer, and studied baroque dance. Research for her Ph.D. in art and theology took her to Paris, where she lived at the nearby Jesuit Cultural Center and researched the seventeenth- and eighteenth-century ballets produced at the Paris Jesuit College of Louis le Grand.

In a startling leap, Rock then spent several years as a police officer before taking that experience back to the stage as a playwright and actress. She was an auxiliary officer in the NYPD, and later a part-time police officer in Minnesota, working midnight shifts.

Rock has written on dance, art, and theology for many journals, and has been artist-in-residence and taught and lectured at colleges, seminaries and conferences across the United States and abroad. The Rhetoric of Death, her first novel, was a 2011 Barry Award nominee.
Praise For A Plague of Lies (A Charles du Luc Novel #3)…
Praise for the Charles du Luc novels
"Thrilling…Engaging."—Sarasota Magazine
"[Judith] Rock takes you back to fascinating and dangerous seventeenth-century Paris so well that I suspect her of being a time-traveler who's been there."—Ariana Franklin, national bestselling author of A Murderous Procession

"Rock's second novel featuring Charles du Luc is every bit the equal of her impressive historical thriller debut, The Rhetoric of Death…Readers will hope this energetic and engrossing sequel will be the first of many."—Publishers Weekly (starred review)
"Rock's historical accuracy resonates here, transporting you to 1686 Paris. Her intriguing plot and protagonists with whom readers are becoming good friends make this a necessary read for all who enjoy historical mysteries, especially those by Ariana Franklin."—Library Journal (starred review)
"Rock skillfully builds her suspense plot, all the while incorporating splendid detail of seventeenth-century Parisian monastic and street life and the relationship between church and Crown, along with the intricate political and religious conflicts of the era. She proves herself a promising new talent by creating this powerful, absorbing, complex, and thoroughly satisfying novel."—Historical Novels Review (editor's choice)