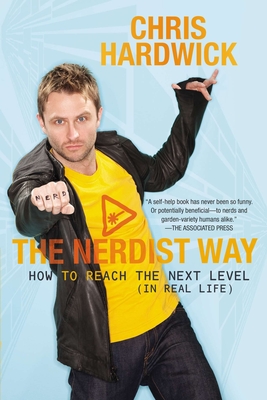 The Nerdist Way (Paperback)
How to Reach the Next Level (In Real Life)
Berkley, 9780425253182, 304pp.
Publication Date: November 6, 2012
Other Editions of This Title:
Pre-Recorded Audio Player (11/1/2011)
Hardcover (11/1/2011)
Compact Disc (3/9/2016)
MP3 CD (9/23/2014)
Compact Disc (11/1/2011)
Compact Disc (11/1/2011)
MP3 CD (11/1/2011)
MP3 CD (11/6/2012)
Compact Disc (11/6/2012)
MP3 CD (11/1/2011)
* Individual store prices may vary.
Description
WELCOME YOUR NEW NERD OVERLORD

Attention, Nerds: You don't have to be a stereotypical geekwad to appreciate the tenets of Nerdism and to make your innate talents for over-analysis and hyper-self-awareness work for you instead of agin you. Join Nerd superstar Chris Hardwick as he offers his fellow "creative-obsessives" the crucial information needed to come out on top in the current Nerd uprising.

As a lifelong member of "The Nerd Herd," Chris Hardwick has learned all there is to know about Nerds. He's studied them, lived with them, and has endeavored to milk their knowledge nectar and isolate its curative powers for what ails you. Thus, he has founded a philosophical system (and blog) called The Nerdist, and here he shares his hard-earned wisdom about turning seeming weaknesses into world-dominating strengths.

From keeping your heart rate below hummingbird levels to ignoring your brain, Hardwick reveals the secrets that can help you accomplish what you want by tapping into your true nerdtastic self. Remember, success is the most satisfying—and legal—form of vengeance there is. And you can achieve it…when you follow the Nerdist Way.
About the Author
Chris Hardwick is a stand-up comedian, TV host, and writer whose Nerdist podcasts are among iTunes's top downloads and who has more than a million Twitter followers. He also writes for Wired and appears frequently on The Late Late Show with Craig Ferguson, Late Night with Jimmy Fallon and Chelsea Lately in addition to hosting The Talking Dead on AMC and The Nerdist on BBC America. Connect online: www.Nerdist.com, www.Nerdistway.com; twitter.com/Nerdist.
Praise For The Nerdist Way: How to Reach the Next Level (In Real Life)…
"He is among the most influential public faces of nerd culture today."—
The New York Times
"A self-help book has never been so funny. Or potentially beneficial—to nerds and garden-variety humans alike."--Associated Press

"Solid self-help book rife with nerdy pop-culture references, a few personal anecdotes, and plenty of enthusiasm."--AV Club

"Chris Hardwick is king of the nerds. And he's a good king. Like Aragorn. Follow him."--Rainn Wilson

"Chris Hardwick is a Nerd's Nerd's Nerd. The third nerd denotes his understanding of Nerddom on a meta-level.  He has broken the chains of his Nerd Bondage to become a successful, well-dressed, famous dude who hasn't forgotten where he came from."--Adam Savage