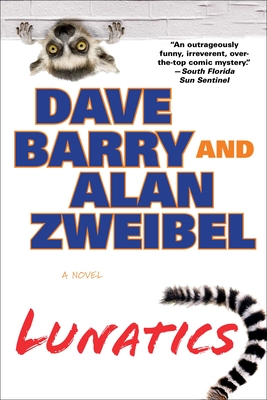 Lunatics (Paperback)
Berkley Publishing Group, 9780425253373, 350pp.
Publication Date: December 31, 2012
Description
Philip Horkman is a happy man, the owner of a pet store called The Wine Shop, and on Sundays a referee for a local kids' soccer league. Jeffrey Peckerman is the proud and loving father of a star athlete in the girls' ten-and-under soccer league, and he's not exactly happy with the ref. The two of them are about to collide in a swiftly escalating series of events that will send them running for their lives, pursued by the police, soldiers, subversives, bears, revolutionaries, pirates, and a black ops team that does not exist. Where all that takes them you can't even begin to guess, but the literary journey there is a masterpiece of inspiration, chaos, and unadulterated, well, lunacy. And they might even learn a lesson or two along the way.
About the Author
Dave Barry is proud to have been elected Class Clown by the Pleasantville High School class of 1965. From 1983 to 2004, he wrote a weekly humor column for the Miami Herald, which in 1988 won the Pulitzer Prize for Commentary. He is the author of some thirty books. His most recent bestsellers include his Peter Pan prequels, written with Ridley Pearson; his Christmas story The Shepherd, the Angel, and Walter the Christmas Miracle Dog; Dave Barry's History of the Millennium (So Far); and I'll Mature When I'm Dead. Barry lives in Coral Gables, Florida, with his family and a domestic staff of forty-seven. Alan Zweibel is an original Saturday Night Live writer who the New York Times said has "earned his place in the pantheon of American pop culture." He is the winner of lots and lots of Emmy Awards for his work in television, which also includes It's Garry Shandling's Show, Monk, Curb Your Enthusiasm, and PBS's Great Performances. He won the Thurber Prize for his novel The Other Shulman and collaborated with Billy Crystal on the Tony Award-winning play 700 Sundays. Zweibel and his wife, Robin, live in Short Hills, New Jersey, because they enjoy paying exorbitantly high property taxes.
Praise For Lunatics…
"An outrageously funny, irreverent, over-the-top comic mystery."—Sun Sentinel

"A s**tload of hilarious fun."—The Kentucky Democrat

"As bizarre as their adventures are, there's a strange sense of believability…That helps keep the story fresh and the pages turning…Creative, unusual and over the top." —The Associated Press

"Rare political satire…With world affairs in the toilet, Barry and Zweibel bring us what we need: comic relief."— The Boston Globe
Advertisement