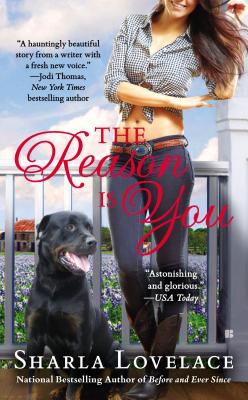 The Reason Is You (Mass Market Paperbound)
Berkley Books, 9780425254868, 320pp.
Publication Date: May 7, 2013
* Individual store prices may vary.
Description
In this"astonishing and glorious" (USA Today) romance from the bestselling Sharla Lovelace, a woman returns to her Texas hometown and rediscovers the meaning of true love...
In the small town of Bethany, Texas, Dani never fit in. Being different pushed her to the fringes of society, and even leaving town for two decades didn't stop the talk. Now she's back, trying to settle in with her daughter and have a normal life. But the men in her life might not make it that simple. First, there's her old friend Alex. He's mischievous, sexy, and still hot enough to melt her shoes. And he's a ghost--a real one, who's always been there for her when she most needed him. Of course, there are actual men in Bethany, too. Like Jason with his hard body. Dani seems to have a habit of running into him--literally. Now she must decide between a man who long ago touched her heart and a man she can actually touch...
About the Author
Sharla Lovelace is the author of The Reason Is You, Before and Ever Since, and the novella "Just One Day." Being a Texas girl through and through, she's proud to say she lives in Southeast Texas with her family, an old lady dog, and an aviary full of cockatiels.
Praise For The Reason Is You…
"A hauntingly beautiful story from a writer with a fresh new voice."—New York Times Bestselling Author Jodi Thomas
"The book's opening reads like women's fiction—a freshly impoverished and romance-challenged heroine moves back home and reinvents herself, finding love in the process. But by page two I knew Lovelace was going to yank that expectation away from me and shape it into something astonishing and glorious, then thrust it back at me and dare me not to love it. And I did. I loved it…The Reason Is You is a splendid debut and all-consuming reading experience."—USA Today
"A spot-on debut novel, Sharla Lovelace's prose is smart, witty, funny, with a hot sexy edge that makes The Reason Is You an oh-so-tantalizing romantic journey, without any gooey gushiness oozing too sweet sentiment. She takes us through the lives of Dani and a fascinating cast of characters—and lucky for readers, the line between our world and the mystical one is deliciously blurred. I could not put down this book, devoured it quickly, and can't wait to see what the author comes up with next."—Kathryn Magendie, author of Family Graces
"A romantic story about love, ghosts, and second chances. But under all of that, it's a story about redemption. This novel is the definition of a page-turner."—Therese Walsh, author of The Last Will of Moira Leahy  
or
Not Currently Available for Direct Purchase