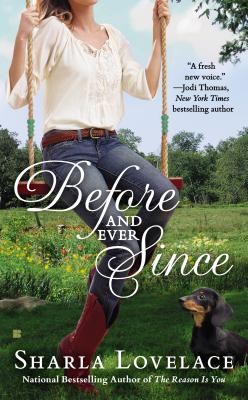 Before and Ever Since (Mass Market Paperbound)
Berkley Books, 9780425255148, 292pp.
Publication Date: November 5, 2013
* Individual store prices may vary.
Description
In this sparkling romance from Sharla Lovelace, the bestselling author of Just One Day and The Reason is You, a woman must confront the secrets of her past when the man she once loved returns to town after twenty years. For fans of Jodi Thomas and Lori Wilde.
Ben Landry knew Emily Lockwood inside and out. From childhood friends to young lovers, they shared an unbreakable bond. But that didn't stop Ben from leaving town without saying good-bye...
Twenty years later, Emily now has a successful career, a stubbornly independent grown daughter, an ex-husband who rarely tests her patience, and a mother who often does. But Emily also has a secret, one that she buried long ago and tried to forget.
Then Ben returns, and any sense of normalcy in her life is gone. Seeing Ben does more than bring back memories. Visions of her past begin playing before her eyes and show every choice she made in a revealing new light and a startling new angle. For Emily, seeing her life in rewind makes her realize she has hard choices to make for her future--choices that could redefine everyone else's future as well.
About the Author
Sharla Lovelace is the national bestselling author of The Reason Is You, Before and Ever Since, and the novella Just One Day. Being a Texas girl through and through, she's proud to say she lives in Southeast Texas with her family, an old lady dog, and an aviary full of cockatiels. Sharla is available by Skype for book club meetings and chats, and loves connecting with her readers!
Praise For Before and Ever Since…
Praise for Sharla Lovelace's novels
"Sometimes I wonder if I can do a book justice by trying to describe how good it really is, and this novel is one of those indescribable-without-experiencing-it types of love stories.  The book kicks off with a great first sentence….I was immediately hooked….Light-hearted with situations so real that you can't help but laugh, while shaking your head in agreement ….BEFORE AND EVER SINCE is an outstanding contemporary story." –Romance Junkies
"Astonishing and glorious.... I loved it…The Reason Is You is a splendid debut and all-consuming reading experience."—USA Today
"A hauntingly beautiful story from a writer with a fresh new voice." --Jodi Thomas, New York Times bestselling author
"Sharla Lovelace is going on my auto-buy list. Wow! I loved this book. The Reason is You is an impressive debut novel . "–Novel Reflections
"The Reason is You, Sharla Lovelace's debut novel, transported me to a small town, complete with small-town drama, a slight Southern feel, and a whole lot of love-triangle action!  It was easy to identify with Dani, our protagonist….The relationships within the story are complex and fleshed-out, enabling the reader to be in the moment with the characters.  Great debut, Ms. Lovelace!" –Twimom227
"Wow, this book was amazing…An amazing tale of romance and love in both the lands of the living and the dead and a tale of how strong family bonds can form when the going gets tough and there is no-one else to turn to." –The Phantom Paragrapher
or
Not Currently Available for Direct Purchase