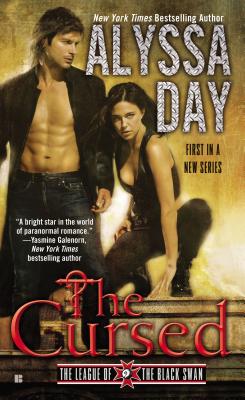 The Cursed (League of the Black Swan #1) (Paperback)
Berkley, 9780425255773, 304pp.
Publication Date: May 7, 2013
* Individual store prices may vary.
Description
New York Times bestselling author of the Warriors of Poseidon series Alyssa Day returns with a thrilling new series of paranormal romance and a heated battle between good and evil fought to the death on the streets of New York…

Bordertown private investigator Luke Oliver's beat is the dimensional fold in Manhattan between the human and supernatural realms. But now a secret from his past—the League of the Black Swan—has surfaced. Because Luke isn't any ordinary P.I. He's the Dark Wizard of Bordertown, and he never backs down from a fight.

But this time the fight threatens his life and his heart. Rio Jones, the only woman he loved, needs his help against a deadly menace. Luke pushed her away once before, so she'd never fall prey to the curse that threatens to destroy him. He swore he'd never let her go again.

Luke and Rio, with the help of the newly reformed League, must keep evil forces from taking over Bordertown—all the while battling a passion on the razor's edge between danger and desire. And going to take everything they have just to stay alive.
About the Author
Alyssa Day is the New York Times and USA Today bestselling pen name (and dark and twisty alter ego) of Alesia Holliday. Previously a trial lawyer in multimillion-dollar litigation, Alyssa was delighted to give up the courtroom to finally put the voices in her head down on paper where they belonged. Writing as Alyssa, she writes the New York Times bestselling Warriors of Poseidon series including such titles as Heart of Atlantis and Atlantis Rising, and the League of the Black Swan paranormal romance series. As Alesia, she won Romance Writers of America's prestigious RITA Award for excellence in romance fiction, and she writes comedies that make readers snort things out of their noses, and is the author of the award-winning memoir about military families during war-time deployments: EMAIL To The Front. Alyssa is a graduate of The Ohio State University and summa cum laude (Latin for "with much student debt") graduate of Capital Law School in Columbus, Ohio. She and her Navy flyer husband, their two children, and their adopted rescue dogs live in Florida.
Praise For The Cursed (League of the Black Swan #1)…
Praise for The Cursed

"Bestseller Day's League of the Black Swan series kickoff is fun and imaginatively humorous…Paranormal romance fans seeking lighter nonvampire, nonshifter fare will enjoy this promising new series." –Publishers Weekly

Praise for Alyssa Day and the Warriors of Poseidon Novels

"Romantic, sexy, and utterly compelling. I loved it!"—Christine Feehan, #1 New York Times bestselling author

"Fascinating, thrilling, and deeply romantic…The perfect blend of fabulous world building and sexy romantic adventure."—Jayne Castle, New York Times bestselling author

"Alyssa Day works her own brand of sexy sorcery in this fabulous new paranormal series. Warriors and witches have never been so hot!"—Teresa Medeiros, New York Times bestselling author

"Alyssa Day's Atlantis is flat-out amazing—her sexy and heroic characters make me want to beg for more! I love the complex world she's created!"—Alexis Morgan, national bestselling author

"A phenomenal new series."—Fresh Fiction

"Alyssa Day's characters grab you and take you on a whirlwind adventure. I haven't been so captivated by characters or story in a long time. Enjoy the ride!"—Susan Squires, New York Times bestselling author

"Alyssa Day has penned a white-hot winner!"—Gena Showalter, New York Times bestselling author

"Wow! Alyssa Day writes a marvelous paranormal romance set on earth."—Susan Kearney, USA Today bestselling author

"Action [and] hot sex…so hold on to your fan, you may need it."—Bitten By Paranormal Romance

"Day blends action, suspense, and fiery hot sensuality."—The Romance Dish

"Action packed and hot and spicy."—TwoLips Reviews

"Day just has a way with these sexy warriors that leaves me breathless."—The Romance Readers Connection

"This character-driven tale will grab the reader's imagination from page one…An epic thrill ride that should not be missed." —Romance Reviews Today

"Action-packed adventure filled with magic and romance…Superb job of world building that will leave you stunned with the richness of detail. The characters of Atlantis are sexy, intelligent, and fascinating. I absolutely loved it and cannot wait for more!"—Romance Junkies

"Superb writing, fascinating characters, and edge-of-your-seat story bring the legend of Atlantis to life."—Colby Hodge, award-winning author

"The Poseidon Warriors are HOT!! Can I have one?"—Kerrelyn Sparks, New York Times bestselling author

"Alyssa Day roars onto the paranormal scene with this tense and magnetic read."— Romance Junkies

"Wow! What a spectacular series opener…The love scenes are sizzling hot."—Once Upon A Romance

"The world building is superb…The Warriors of Poseidon are a sexy, chivalrous, and dangerous team [who] create an atmosphere of testosterone so thick you can cut it with a knife; the interaction between this brawny bunch is priceless."—ParaNormal Romance

"A cast of sexy but tormented alpha heroes."—The Romance Reader
or
Not Currently Available for Direct Purchase