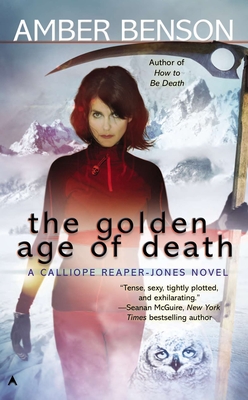 The Golden Age of Death (A Calliope Reaper-Jones Novel #5) (Mass Market)
Ace, 9780425256152, 336pp.
Publication Date: February 26, 2013
* Individual store prices may vary.
Description
Meet Amber Benson's "authentically original creation" (Locus)...


My name is Calliope Reaper-Jones (Callie to my friends). I'm Death's Daughter and—as of very recently—the (reluctant) head of my father's company, Death, Inc.
I was gradually learning how to be a businesswoman. Had the power suits and shoes down, though the day to day was slow going. Then I was blindsided by Enemies Unknown and sent off to I-don't-know-where. Not a good thing.
Now not only must my friends and family be frantic, but without a CEO, Death, Inc., can't function. With the newly deceased left free to roam the Earth, it's the zombie apocalypse come true.
I've got to get back—for my sake and the sake of, oh, all humanity…
About the Author
Amber Benson cocreated, cowrote, and directed the animated supernatural Web series Ghosts of Albion with Christopher Golden, which they followed with a series of novels, including Witchery and Accursed, and the novella Astray. Benson and Golden also coauthored the novella The Seven Whistlers. As an actress, she has appeared in dozens of roles in feature films, TV movies, and television series, including the fan-favorite role of Tara Maclay on three seasons of Buffy the Vampire Slayer. Benson wrote, produced, and directed the feature films Chance and Lovers, Liars and Lunatics.
Praise For The Golden Age of Death (A Calliope Reaper-Jones Novel #5)…
Praise for the Calliope Reaper-Jones novels
"It's all in good fun, and Benson's immense charm sweeps the reader past the occasional plot contrivance with ease...Benson is only growing more confident and capable, and she shows no signs of slowing down anytime soon."—
San Francisco Book Review

"Amber Benson does an excellent job of creating strong characters, as well as educating the reader on some great mythology history…A fast-paced and very entertaining story."—
Sacramento Book Review

"Benson provides a fun romp that defines the rules of an exciting new universe you'll be chomping at the bit to dive back into time and again. There's action; there's intrigue, redemption, an adorable hell puppy, and even a hot guy or two. What more could you ask for?"—Buffyfest
"Amber Benson writes an amusing, action-packed, chick-lit urban fantasy loaded with more twists and curves than a twist-a-whirl…Filled with humor and wit, this is a refreshing, original thriller as double, triple, and nth crossings are the norm."—Genre Go Round Reviews