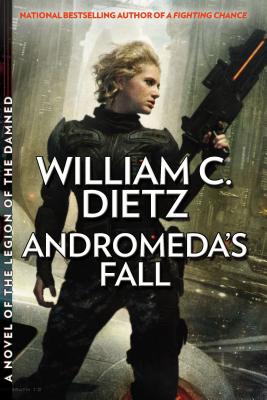 Andromeda's Fall (Hardcover)
Ace Books, 9780425256251, 340pp.
Publication Date: December 4, 2012
* Individual store prices may vary.
or
Not Currently Available for Direct Purchase
Description
The roots of the Legion of the Damned lie deep within the mythology of the future. But now, national bestselling author William C. Dietz goes back to the Legion's early days with the story of one recruit's rebirth and redemption
Hundreds of years in the future, much has changed. Advances in medicine, technology, and science abound. Humanity has gone to the stars, found alien life, and established an empire.
But some things never change...
All her life, Lady Catherine Carletto (called Cat) has lived for nothing but the next party, the next lover, the next expensive toy. Until, in a bloodthirsty power grab, Imperial Princess Ophelia and her cadre of synth assassins murder her brother the emperor, and go on to purge the galaxy of his friends and supporters including Cat's family. The Carlettos are known to be staunch supporters of the Emperor and Carletto Industries has been in the forefront of his pet project developing cybernetic technology for use by the masses.
Now Cat, one of the last surviving Carlettos, is on the run. And, like countless others before her, she finds her sanctuary among the most dangerous of society's misfits.
Welcome to the Legion.
Cat Carletto vanishes, and in her place stands Legion recruit Andromeda McKee. A woman with a mission to bring down Empress Ophelia or die trying.
About the Author
William C. Dietz is the bestselling author of more than thirty novels, some of which have been translated into German, Russian, and Japanese. He grew up in the Seattle area, served as a medic with the Navy and Marine Corps, graduated from the University of Washington, and has been employed as a surgical technician, college instructor, and television news writer, director, and producer. Prior to becoming a full-time writer, Dietz served as director of public relations and marketing for an international telephone company. He and his wife live near Gig Harbor, Washington.
Praise For Andromeda's Fall…
"When it comes to military science fiction, William Dietz can run with the best."—Steve Perry, author of the Matador series

Praise for the Legion of the Damned novels

"Dietz expertly jumps from one theater of combat to another."—Publishers Weekly

"This is an excellent story, well written and excitingly told. If you like military SF, this is definitely a book for you."—SF Crowsnest.com

"A superb, action-packed thriller . . . [a] terrific tale."—Midwest Book Review

"A tough, moving novel of future warfare."—David Drake, author of the Hammer's Slammers series

"Dietz's expertise in matters of mayhem is second to none."—The Oregonian
Advertisement