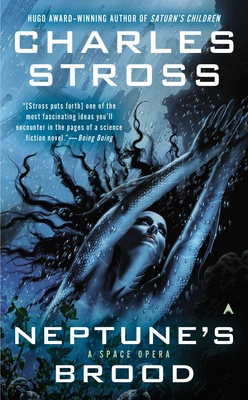 Neptune's Brood (A Freyaverse Novel) (Mass Market)
Ace, 9780425256305, 352pp.
Publication Date: June 24, 2014
Other Editions of This Title:
Digital Audiobook (10/10/2013)
Hardcover (7/2/2013)
* Individual store prices may vary.
Description
The year is AD 7000. The human species is nearly extinct—for the fourth time—due to its fragile nature.
 
Krina Alizond-114 is metahuman, descended from the robots that once served humanity. She's on a journey to the water world of Shin-Tethys to find her sister Ana. But her trip is interrupted when pirates capture her ship. Their leader, the enigmatic Count Rudi, believes that there's more to Krina's search than meets the eye.
 
He's correct: Krina and Ana each possess half of the fabled Atlantis Carnet, a lost financial instrument of unbelievable value—capable of bringing down entire civilizations. Krina doesn't know that Count Rudi suspects her motives, so she accepts his offer to get her to Shin-Tethys in exchange for an introduction to Ana.
 
And what neither of them suspects is that a ruthless body-double assassin has stalked Krina across the galaxy, ready to take the carnet once it is whole—and leave no witnesses alive to tell the tale…
 
About the Author
Charles Stross is a full-time science fiction writer and resident of Edinburgh, Scotland. The author of six Hugo-nominated novels and winner of the 2005 Hugo Award for best novella ("The Concrete Jungle"), Stross has had his work translated into more than twelve languages. His books include Singularity Sky, Iron Sunrise, Accelerando, Halting State, Glasshouse, Saturn's Children, Wireless, Rule 34, and The Laundry Files (The Atrocity Archives, The Jennifer Morgue, The Fuller Memorandum, The Apocalypse Codex, and The Rhesus Chart).
Praise For Neptune's Brood (A Freyaverse Novel)…
"Witty, smart, and more relevant than you'd expect, this is a thoroughly entertaining sci-fi mind-expander from one of the genre's most reliable imaginations."—SFX

"A wonderful bouquet of ideas."—Boing Boing

"The fun part comes from the way Stross devises his robotkind to act as humanity's successor species—to imagine them not as intellects vast, cool, and unsympathetic but as very much like us, writ not large but as merely durable."—Locus
 
"Agreeable characters, a fascinating backdrop and brilliant plotting, with a further outlook of lengthy grins and occasional guffaws."—Kirkus Reviews (starred review)