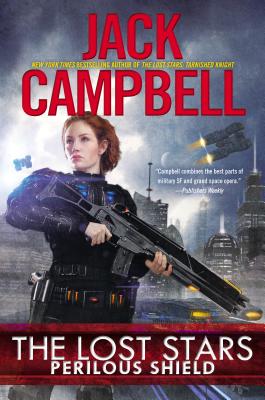 The Lost Stars
Perilous Shield
Hardcover

* Individual store prices may vary.
Description
A thrilling spin-off from Jack Campbell's The Lost Fleet series, "The Lost Stars: Tarnished Knight "delivered "excellent tales of space battles and struggles against tyrants and aliens."* Now the "New York Times" bestselling author returns with the next chapter in the overthrow of the Syndicate Worlds' oppression...
Following a successful coup, the leaders of the rebel Midway Star System struggle to forge a government free enough to please its citizens yet strong enough to secure power. But in a world where former rulers have become new foes, an alien threat to humanity may turn old adversaries into uncertain allies.
General Artur Drakon knows three words describe someone who confides in a Syndicate CEO: "Stupid." "Betrayed." "Dead." Despite his misgivings, he partnered with another former CEO to overthrow Syndic forces. Now, with an enigma fleet menacing their hard-earned independence, he can ill afford to trust her--or lose her support.
President Gwen Iceni believes Midway is humanity's defense against the enigmas. Syndicate training taught her self-preservation in a crisis, yet she's determined to fight for the star system's fate...even if it means joining forces with Drakon--and an officer of the hated Alliance.
Their plan places the Midway flotilla at great risk in hopes of greater reward: recruiting the personnel necessary to man warships against the enigmas. But before facing the alien advance, Drakon and Iceni must survive hidden dangers closer to home: all-too-human threats that could jeopardize Midway's freedom...and their own lives.
*"Night Owl Reviews.
Praise For The Lost Stars: Perilous Shield…
Praise for The Lost Stars: Tarnished Knight

"A fascinating and vividly rendered character study, fully and expertly contextualized."—Kirkus Reviews

"A true page-turner as Jack Campbell takes you from one cliff-hanger to the next before you've had time to readjust to the newest twist."—My Bookish Ways

"Tarnished Knight is a winner, with the right mixture of action-based military science fiction and political space opera."—The Guilded Earlobe

"As can be expected in a Jack Campbell novel, the military battle sequences are very well done, with the land-based action adding a new dimension…Fans of The Lost Fleet series will…enjoy this book."—SFcrowsnest

"[An] imaginative science fiction novel…A chilling depiction of a society where one is always being spied upon."—Night Owl Reviews
Ace Books, 9780425256312, 406pp.
Publication Date: October 1, 2013
About the Author
"Jack Campbell" is the pen name of John G. Hemry, a retired naval officer who graduated from the U.S. Naval Academy in Annapolis before serving with the surface fleet and in a variety of other assignments. He is the author of The Lost Fleet series as well as the Stark's War series and the Paul Sinclair series. His short fiction appears frequently in "Analog "magazine. He lives with his indomitable wife and three children in Maryland.
or
Not Currently Available for Direct Purchase