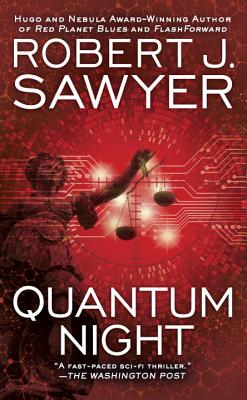 Quantum Night (Mass Market)
Ace, 9780425256428, 384pp.
Publication Date: February 28, 2017
Other Editions of This Title:
Hardcover (3/1/2016)
MP3 CD (10/18/2016)
* Individual store prices may vary.
Description
The Hugo and Nebula Award-winning author of Red Planet Blues, FlashForward, and the novels of the WWW trilogy explores the thin line between good and evil that every human being is capable of crossing…

Experimental psychologist Jim Marchuk has developed a flawless technique for identifying the previously undetected psychopaths lurking everywhere in society. But while being cross-examined in court about his breakthrough, Jim is shocked to discover that he has lost his memories of six months of his life almost twenty years ago—a dark time during which he himself committed heinous acts.

Jim is reunited with Kayla Huron, his forgotten girlfriend from his lost period and now a quantum physicist who has made a stunning discovery about the nature of human consciousness. As a rising tide of violence and hate sweeps across the globe, the psychologist and the physicist combine forces in a race against time to see if they can do the impossible—change human nature—before the entire world descends into darkness.
About the Author
Robert J. Sawyer lives just outside of Toronto. He has won both the Hugo and Nebula awards for Best Novel of the Year, and the ABC TV series FlashForward was based on his Aurora Award-winning novel of the same name.
Praise For Quantum Night…
"A fast-paced sci-fi thriller."—The Washington Post
 
"Mind-blowing...What Sawyer does, possibly better than anyone else, is take a new scientific theory and extrapolate its real-world effects to their logical extremes. Then he tosses some Canadian, Star Trek-quoting academics at it to see what happens."—The Daytona Beach News-Journal
 
"A fast-moving, mind-stretching exploration of the nature of personality and consciousness; it balances esoteric speculation with action and character...and the political/media references keep the story uncomfortably close to present-day fears."—Publishers Weekly (starred review)
 
"It's been way, way too long since Robert J. Sawyer unleashed one of his thought-provoking high-concept books on us. And this time, he's asking deep questions about the nature of consciousness."—io9
 
"Absolutely fascinating, thought provoking, and a ripping good read to boot...A great blend of the scientific with the fantastic, with a philosophically and scientifically compelling hook, I put Quantum Night up among my favorite of Sawyer's work, and one of the better sci-fi novels I've read. Great stuff."—Strange Currencies
 
"What a great, provocative read! From quantum physics to the philosophy of mind, Sawyer's latest novel will leave you pondering deep questions long after you turn the final page."—Dan Falk, author of The Science of Shakespeare