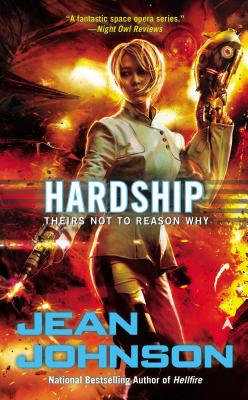 Hardship (Theirs Not to Reason Why #4) (Mass Market)
Ace, 9780425256497, 320pp.
Publication Date: July 29, 2014
* Individual store prices may vary.
Description
It began with a terrible vision of the future. Compelled by her precognitive abilities, Ia must somehow save her home galaxy long after she's gone. Now Jean Johnson presents the long-awaited epic conclusion to her national bestselling military science fiction series…
 
Demoralized, their ship destroyed, Ia's Damned must fight their way out of a planet-bound blockade and back into space.  But there is more happening here on Dabin than meets even Ia's inner eye.
 
Some of the Feyori, energy-based beings of vast power and arrogance, are moving to block her efforts under the direction of her counter-faction foe, Miklinn. The Terran Army Division stationed on Dabin is not cooperating with her battle plans. Events are not happening as Ia has foreseen, and too many people are now in grave danger, thanks to alien Meddling.
 
All these hardships are threatening to derail Ia's carefully laid plans. The Meddlers, however, have made one fatal mistake:
 
They're just making Bloody Mary mad.
About the Author
Jean Johnson is the national bestselling author of both military science fiction and fantasy romance, including the series Theirs Not to Reason Why and Sons of Destiny.
Praise For Hardship (Theirs Not to Reason Why #4)…
Praise for Theirs Not to Reason Why

Hellfire

"Highly entertaining and extremely involving in equal measure." —Shadowhawk, The Founding Fields

"This exciting addition to a fantastic space opera series continues to provide a mesmerizing multi-layered read."—Night Owl Reviews

An Officer's Duty

"Fast-paced with terrific battle scenes and deep characterizations."—Genre Go Round Reviews

A Soldier's Duty

"Reminiscent of both Starship Troopers and Dune…Successfully balances its military and science fiction elements."—Publishers Weekly

"Full of suspense, danger, and intrigue, this new series shows a lot of promise. Fans of military science fiction will definitely want to check out this surprising and exciting novel."—SciFiChick.com

 "An engrossing military sf series…a good read."—SF Signal