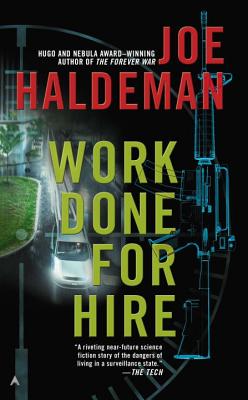 Work Done for Hire (Mass Market)
Ace, 9780425256619, 304pp.
Publication Date: December 30, 2014
Other Editions of This Title:
Digital Audiobook (1/6/2014)
Hardcover (1/7/2014)
* Individual store prices may vary.
Description
The Hugo and Nebula Award-winning author of The Forever War delivers "a riveting near-future science fiction story of the dangers of living in a surveillance state" (The Tech).

Wounded in combat and honorably discharged nine years ago, Jack Daley still suffers nightmares from when he served his country as a sniper, racking up sixteen confirmed kills. Now a struggling author, Jack accepts an offer to write a near-future novel about a serial killer, based on a Hollywood script outline. It's an opportunity to build his writing career and a future with his girlfriend, Kit Majors.
 
But Jack's other talent is also in demand. A package arrives on his doorstep containing a sniper rifle, complete with silencer and ammunition—and the first installment of a $100,000 payment to kill a "bad man." The twisted offer is genuine. The people behind it are dangerous. They also prove that they have Jack under surveillance. He can't run. He can't hide. And if he doesn't take the job, Kit will be in the crosshairs instead.
About the Author
Joe Haldeman is a Vietnam veteran whose classic novels The Forever War and Forever Peace both have the rare honor of having won the Hugo and Nebula awards. He has served twice as president of Science Fiction & Fantasy Writers of America and is currently an adjunct professor teaching writing at the Massachusetts Institute of Technology. He is the author of the Marsbound Trilogy (Marsbound, Starbound, Earthbound), The Accidental Time Machine, Old Twentieth, A Separate War and Other Stories, and Camouflage.
Praise For Work Done for Hire…
Praise for Work Done for Hire...

"This fast-paced novel will please Haldeman devotees while garnering him new fans among thriller readers."—Library Journal
 
"Haldeman's experience and skill show in his effortless characterization and tense plotting."—Publishers Weekly
 
"Haldeman takes you into the broken mind of a man who has seen terrible things that have changed him…It makes for an intriguing character study."—Fantasy Faction

...and for Joe Haldeman, Winner of the Hugo, Nebula, and John W. Campbell Awards

"If there was a Fort Knox for the science fiction writers who really matter, we'd have to lock Haldeman up there."—Stephen King
 
"Haldeman has long been one of our most aware, comprehensive, and necessary writers. He speaks from a place deep within the collective psyche and, more importantly, his own. His mastery is informed with a survivor's hard-won wisdom."—Peter Straub
 
"Haldeman remains a nimble, necessary figure in sci-fi's pantheon."—Entertainment Weekly
 
"[Haldeman's] prose is laconic, compact, seemingly offhand but quite precise…Like the grammar of cinema, it is a mode that looks natural and even easy but requires exacting skill."—The Washington Post
 
"One of science fiction's most reliable practitioners."—San Francisco Chronicle