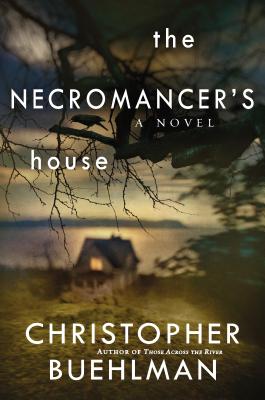 The Necromancer's House
Hardcover

* Individual store prices may vary.
Other Editions of This Title:
Digital Audiobook (10/27/2013)
MP3 CD (10/28/2013)
MP3 CD (10/28/2013)
Compact Disc (10/28/2013)
Compact Disc (10/28/2013)
Compact Disc (10/28/2013)
Paperback (9/2/2014)
Description
"Those Across the River," a "beautifully written...exceedingly clever" ("Boston Herald") masterpiece of "genuine terror" ("New York Times" bestselling author F. Paul Wilson), was hailed by #1 "New York Times" bestselling author Charlaine Harris as "one of the best first novels I've ever read." Now comes Christopher Buehlman's new novel--one of uncommon horrors hiding behind the walls of the house next door...
""You think you got away with something, don't you? But your time has run out. We know where you are. And we are coming."
The man on the screen says this in Russian.
"Who are you?"
The man smiles, but it's not a pleasant smile.
The image freezes.
The celluloid burns exactly where his mouth is, burns in the nearly flat U of his smile. His eyes burn, too.
The man fades, leaving the burning smiley face smoldering on the screen.
"Oh Christ," Andrew says.
The television catches fire."
Andrew Ranulf Blankenship is a handsome, stylish nonconformist with wry wit, a classic Mustang, and a massive library. He is also a recovering alcoholic and a practicing warlock, able to speak with the dead through film. His house is a maze of sorcerous booby traps and escape tunnels, as yours might be if you were sitting on a treasury of Russian magic stolen from the Soviet Union thirty years ago. Andrew has long known that magic was a brutal game requiring blood sacrifice and a willingness to confront death, but his many years of peace and comfort have left him soft, more concerned with maintaining false youth than with seeing to his own defense. Now a monster straight from the pages of Russian folklore is coming for him, and frost and death are coming with her.
Praise For The Necromancer's House…
Praise for Those Across the River
One of Publishers Weekly's Top-Ten SF, Fantasy & Horror Novels
A 2012 World Fantasy Award Nominee for Best Novel

"What a treat. As much F. Scott Fitzgerald as Dean Koontz. A graceful, horrific read."—Patricia Briggs, #1 New York Times bestselling author

"So real you can almost see the sweat roll down the page."—Boston Herald

"Wonderfully eerie from start to finish—a novel sure to enthrall readers of all stripes."—Grant Blackwood, #1 New York Times bestselling author

"An unsettling brew of growing menace…Do not miss this chilling debut."—F. Paul Wilson, New York Times bestselling author of Cold City

"Sublimely crafted."—New York Journal of Books

"Lures you into a different era, seduces you with eloquent prose and sensual period details, then clamps down on your jugular…An outstanding debut."—Hank Schwaeble, Bram Stoker Award–winning author of Diabolical

"A delightfully genre-bending juxtaposition of supernatural horror and gothic drama."—California Literary Review

"Gripping, compelling gothic horror in the most classical sense, an American Dracula that absorbs the reader into its seductive embrace through lush rhythms and a veneer of homespun innocence."—The Trades

And for Between Two Fires

"By combining modern horror dynamics with a convincing medieval setting, Christopher Buehlman secures his status among today's leading dark-fantasy authors."—Shelf Awareness

"Fans of historical fantasy and horror will find this epic darkly rewarding."—Publishers Weekly

"Buehlman is now two for two in delivering eerie, offbeat novels with admirable literary skill."—Kirkus Reviews
Ace Books, 9780425256657, 410pp.
Publication Date: October 1, 2013
About the Author
Christopher Buehlman is the winner of the 2007 Bridport Prize for Poetry and the author of three novels and several plays. He spends half the year in Florida and the rest on the road.
How does ancient magic play a role in the book in relation to modern technology?
Many of the characters in The Necromancer's House are struggling with addiction or in recovery. What is the significance of rehabilitation throughout the story?
Of all the characters who need redemption, whose resolution is the most satisfying and why?
What is the significance of Misha's posthumous act of mercy to Nadia? Do you see any similarities between Misha and the AA 'elder statesman' Bob?
What do you think is the meaning behind Andrew's statement, "belief is more than half of all magic," and how does it relate to the larger story?
Ichabod's persistence and power require the most clear and direct language from Andrew. In what ways does that foreshadow the role he ultimately plays in Andrew's fate?
What are the parallels in Anneke and Andrew's handling of the deaths of their loved ones? How do they differ?
In regards to magic, Andrew explains at great length the differences between being an "intuitive" and being a "plodder," each having their own merits and limitations. How does this theory extend to modern society's understanding of talent in general?
When Anneke returns from Ohio after her relapse, Andrew warns she has not yet hit her bottom. What moment in the story do you interpret as Anneke's "rock bottom"?
Andrew masks his true age at the cost of using much of his power. What do we learn from his experience in allowing himself to grow old and be seen as he really is?
In section 11, what significance is there to Andrew's statement, "everything I enjoy is connected to death"?
What do Sergei and Georgi's brief appearances in the story illuminate for the reader about the apparent disconnect between generations?
The Necromancer's House is filled with tools to communicate with the non-living. What do Nadia's last words in the book tell us about the significance of home?
or
Not Currently Available for Direct Purchase