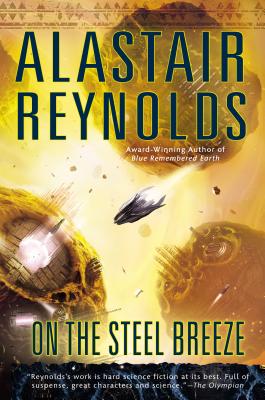 On the Steel Breeze (Hardcover)
Ace Books, 9780425256787, 483pp.
Publication Date: June 3, 2014
Other Editions of This Title:
Digital Audiobook (6/11/2014)
Mass Market (5/26/2015)
* Individual store prices may vary.
Description
The award-winning author of "Blue Remembered Earth" continues his saga as the next generation of the Akinya family crosses interstellar space seeking humanity's future...
Chiku Akinya, great granddaughter of the legendary space explorer Eunice and heir to the family empire, is just one among millions on a long one way journey towards a planet they hope to call their new home. For Chiku, the journey is a personal one, undertaken to ensure that the Akinya family achieves its destiny among the stars.
The passengers travel in huge self-contained artificial worlds holoships putting their faith in a physics they barely understand. Chiku's ship is called Zanzibar and over time, she will discover it contains an awesome secret one which will lead her to question almost every certainty about her voyage, and its ultimate destiny
About the Author
Alastair Reynolds was born in Wales in 1966. He has a PhD in astronomy. From 1991 to 2007, he lived in the Netherlands, where he was employed by the European Space Agency as an astrophysicist. He is now a full-time writer and lives in South Wales with his wife, Josette. He is the author of several novels including"Revelation Space," "Redemption Ark," "Absolution Gap," "Chasm City," "The Prefect," "Terminal World," and "Blue Remembered Earth.""
Praise For On the Steel Breeze…
Praise for Alastair Reynolds:

"Engrossing…Blue Remembered Earth is, ultimately, a collection of conflicting 'isms': individualism, collectivism, romanticism, capitalism, expansionism, escapism. The ability to integrate such competing notions into a stable narrative speaks to the ideological power of the best SF; it also demonstrates Reynolds's genre mastery….More importantly, the projected series—and the work Reynolds has yet to produce—will tell us much about the state of SF in the early twenty-first century."—Los Angeles Review of Books
 
"Reynolds both develops a richly detailed portrait of a resurgent, postapocalyptic Earth society and economy, and leaves himself plenty of room to expand his narrative space exponentially…If Reynolds can keep this up—and there's enough planted here for future volumes to already suggest that he can—he might have one of the most enjoyable series of the still-young decade."—Locus
 
"As my number one SF writer of the '00s, any novel or story by Alastair Reynolds is a must...As speculation about a mid 2100s Earth and nearby solar system, Blue Remembered Earth is simply unrivaled in recent SF and if only for that and the novel is a top 25 of mine…A compulsive read that you do not want to put down…If you want to understand why SF at its best is still the most interesting form of literature today, Blue Remembered Earth [is the place] to go."—Fantasy Book Critic  
"Reynolds does what he does best in this tale of a not-unimaginably distant future: a sweeping family epic.With space travel."—Booklist   "The futuristic science, which includes expansions of virtual reality and a convenient mode of travel from Earth to the Moon, is plausibly conveyed. Beyond that, Reynolds's creative imagination uses current and speculative science and technology as the underlying structure for a thoughtful exploration of humanity's place in the universe."—Publishers Weekly (starred review)
or
Not Currently Available for Direct Purchase