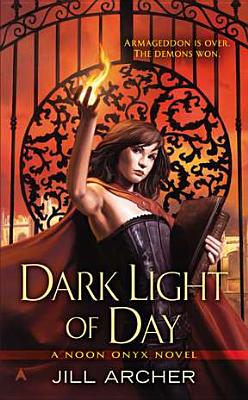 Dark Light of Day (A Noon Onyx Novel #1) (Mass Market)
Ace, 9780425257159, 384pp.
Publication Date: September 25, 2012
* Individual store prices may vary.
Description
Armageddon is over. The demons won. And yet somehow…the world has continued. Survivors worship patron demons under a draconian system of tributes and rules. These laws keep the demons from warring among themselves, and the world from slipping back into chaos.

Noon Onyx grew up on the banks of the river Lethe, the daughter of a prominent politician, and a descendant of Lucifer's warlords. Noon has a secret: She was born with waning magic, the dark, destructive, fiery power that is used to control demons and maintain the delicate peace among them. But a woman with waning magic is unheard of, and some would consider her an abomination.

Noon is summoned to attend St. Lucifer's, a school of demon law. She must decide whether to declare her powers there…or to attempt to continue hiding them, knowing the price for doing so may be death. And once she meets the forbiddingly powerful Ari Carmine—who suspects Noon is harboring magic as deadly as his own—Noon realizes there may be more at stake than just her life.
About the Author
Raised in Pittsburgh, Pennsylvania, Jill Archer earned a bachelor of science from Pennsylvania State University and later moved to Baltimore to attend the University of Baltimore School of Law, where she graduated magna cum laude. She went on to practice law for ten years. Jill now lives in rural Maryland with her two children and her husband, who is a recreational pilot. Her weekends are often spent flying around in the family's small Cessna, visiting tiny, untowered airfields and other local points of interest.
Praise For Dark Light of Day (A Noon Onyx Novel #1)…
"Spectacular debut novel by a soon-to-be-star."—USA Today bestselling author Faith Hunter

"There is a fresh new voice in urban fantasy, and she has a unique take on Armageddon...With her unusual heroine, Noon Onyx, Archer has created a brilliant character who struggles against fate to find her place in the world. Set against the backdrop of university life, there is an abundance of adventure, mystery and passion!"—Romantic Times (four stars)