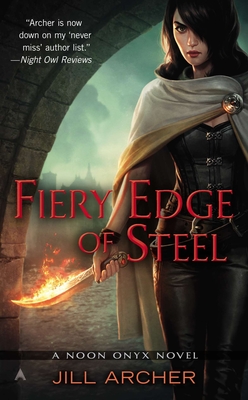 Fiery Edge of Steel (A Noon Onyx Novel #2)
Mass Market

* Individual store prices may vary.
Description
Lucifer and his army triumphed at Armageddon, leaving humans and demons living in uncertain peace based on sacrifice and strict laws. It is up to those with mixed demon and human blood, the Host, to prevent society from falling into anarchy.
 
Noon Onyx is the first female Host in memory to wield the destructive waning magic that is used to maintain order among the demons. Her unique abilities, along with a lack of control and a reluctance to kill, have branded her as an outsider among her peers. Only her powerful lover, Ari Carmine, and a roguish and mysterious Angel, Rafe Sinclair, support her unconventional ways.
 
When Noon is shipped off to a remote outpost to investigate several unusual disappearances, a task that will most likely involve trying and killing the patron demon of that area, it seems Luck is not on her side. But when the outpost settlers claim that an ancient and evil foe has stepped out of legend to commit the crimes, Noon realizes that she could be facing something much worse than she ever imagined…
Praise For Fiery Edge of Steel (A Noon Onyx Novel #2)…
Praise for Fiery Edge of Steel 

"Archer delves deeper into the enticing and magical world of Dark Light of Day in this original and clever urban fantasy. Noon Onyx, the only female at St. Lucifer's School of Law to possess waning magic, is still coming to terms with her new role in life. She has a duty to keep demons in line but can't bring herself to destroy them. As a Maegester-in-Training, she is given her first field assignment and Guardian Angel, both unwelcome surprises. Noon is sent to investigate the mysterious disappearances of several residents of a place called the Shallows, and promptly handle the demon who's been accused of causing those disappearances. Unfortunately, that demon is a myth—or so Noon thinks. Excitement and action leap from the pages as Archer's skill with description pulls readers fully into her magical world." – Publishers Weekly

"The second Noon Onyx story is an astounding adventure tale. Archer's unique world, where Lucifer's army triumphed at Armageddon, is filled with adherence to strict laws that keep an uneasy peace between races. This is proving to be a really fresh and fascinating series!" – Romantic Times

Praise for Dark Light of Day

"[Archer] casts a spell on readers."--Genre Go Round Reviews

"Very original and enjoyable."--Rabid Reads

"Spectacular debut novel by a soon-to-be-star."--Faith Hunter, USA Today bestselling author
 
Ace, 9780425257166, 336pp.
Publication Date: May 28, 2013
About the Author
Raised in Pittsburgh, Pennsylvania, Jill Archer earned a bachelor of science from Pennsylvania State University and later moved to Baltimore to attend the University of Baltimore School of Law, where she graduated magna cum laude. She went on to practice law for ten years. Jill now lives with her two children and her husband, who is a recreational pilot. Her weekends are often spent flying around in the family's small Cessna, visiting tiny, untowered airfields and other local points of interest.
or
Not Currently Available for Direct Purchase