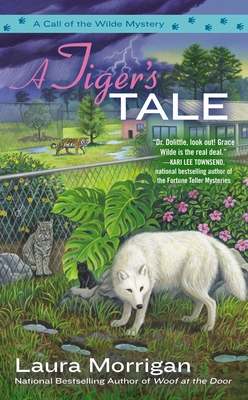 A Tiger's Tale (A Call of the Wilde Mystery #2) (Mass Market)
Berkley, 9780425257203, 336pp.
Publication Date: May 6, 2014
* Individual store prices may vary.
Description
When a normally mellow tiger at a rescue facility trees a terrified vet, animal behaviorist Grace Wilde needs to use her psychic ability to get to the root of the problem…
 
A tiger can't change his stripes—but if his behavior changes suddenly, there's a reason. So when even-tempered Boris the Siberian tiger goes into attack mode, Grace knows there's more to the story. Something is agitating the big cat. As she uses her telepathic ability to calm the tiger, she realizes he has witnessed a theft—not of something but of someone. A teenaged volunteer at the animal rescue facility has been taken…kidnapped.
 
The problem is Brooke Ligner's parents believe their troubled daughter ran away and Grace can't exactly reveal her source. Even though sexy cop Kai Duncan is aware of Grace's secret ability, he can't initiate an investigation based on the word of a tiger. Now, as Grace searches for solid clues to rescue the missing teen, it's the human predators she'll need to watch out for…
About the Author
Spending the first years of her life on a Costa Rican coffee farm blessed Laura Morrigan with a fertile imagination and a love for all things wild. Later she became a volunteer at a Florida zoo, helping out with everything from "waste management" to teaching an elephant how to paint. Drawing from her years of experience with both wild and domestic animals and her passion for detective novels, Laura created the Call of the Wilde Mysteries, including Take the Monkey and Run, Woof at the Door, A Tiger's Tale and Horse of a Different Killer. She lives in Florida with too many cats, loves the Blue Angels, wearing flip flops in November, and thunderstorms.
Praise For A Tiger's Tale (A Call of the Wilde Mystery #2)…
Praise for Woof at the Door

"Dr. Doolittle, look out! Grace Wilde is the real deal...I predict a fabulous future for the Call of the Wilde series with its engaging characters, action-packed plot, and well-crafted mystery that will keep you guessing until the end."—Kari Lee Townsend, national bestselling author of the Fortune Teller Mysteries

"A sparkling mystery debut."—Heather Blake, national bestselling author
 
"A fun read that will keep you guessing."—Joyce Lavene, national bestselling author