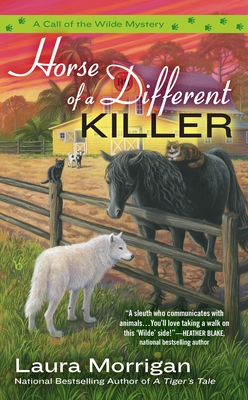 Horse of a Different Killer (A Call of the Wilde Mystery #3) (Mass Market)
Berkley, 9780425257210, 304pp.
Publication Date: March 3, 2015
* Individual store prices may vary.
Description
THE FIRST CALL OF THE WILDE MYSTERY

Animal behaviorist Grace Wilde's psychic ability gives her insight into the minds of all kinds of creatures. If only humans were as easy to read…

Dead men may tell no tales, but they can screw up your life with a few phone calls. Grace's abusive ex-brother-in-law, Anthony Ortega, needs her help—at least that's what he said on the messages he left before his sudden death. Grace is inclined to let the matter rest in peace, but when her sister is named a suspect, Grace decides to get to the bottom of the cryptic calls.

Her only lead is Ortega's fiancée, who believes that he had arranged to surprise her with the purchase of a Frisian gelding named Heart. The horse was being stabled at the R-n-R Ranch—but was taken in the middle of the night. Now, with her sister in trouble and a missing horse on her hands, Grace hopes the information harnessed from her psychic skills will be enough to rein in the killer…
About the Author
Spending the first years of her life on a Costa Rican coffee farm blessed Laura Morrigan with a fertile imagination and a love for all things wild. Later she became a volunteer at a Florida zoo, helping out with everything from "waste management" to teaching an elephant how to paint. Drawing from her years of experience with both wild and domestic animals and her passion for detective novels, Laura created the Call of the Wilde Mysteries, including Take the Monkey and Run, Woof at the Door, A Tiger's Tale and Horse of a Different Killer. She lives in Florida with too many cats, loves the Blue Angels, wearing flip flops in November, and thunderstorms.
Praise For Horse of a Different Killer (A Call of the Wilde Mystery #3)…
Praise for the Call of the Wilde mysteries:

"Engaging characters, action-packed…[a] well-crafted mystery."—Kari Lee Townsend, national bestselling author

"[A] fast-paced, well-plotted page turner of a read that kept me at the edge of my seat."—MyShelf.com

"A sleuth who communicates with animals…You'll love taking a walk on this 'Wilde' side." —Heather Blake, national bestselling author