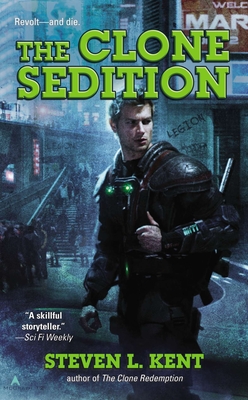 The Clone Sedition (A Clone Republic Novel #8) (Mass Market)
Ace, 9780425258187, 368pp.
Publication Date: October 30, 2012
* Individual store prices may vary.
Description
Earth, A.D. 2519. Less than a year has passed since the clone military of the Enlisted Man's Empire toppled the government of the Unified Authority. Now the clones rule Earth, but a new enemy has emerged—and set off civil war…

Formerly trained to fight for the U.A., clone Marine Wayson Harris had led the Enlisted Man's Empire invasion of Earth and wrested control away from the old regime. He's now ready to do what it takes to ensure the new balance of power isn't jeopardized.

When a trio of religious fanatics from Mars attempts to attack Harris, he fears there is more unrest among the colony's residents. Hoping to stave off an uprising, he leads a troop of Marines to Mars. But once there, they learn the situation is much graver than they first feared.

The red planet's refugees have decided the clones are their number one enemy, and measures to eradicate them are underway. And when Harris is kidnapped and drugged, he discovers something disturbing about himself.

He can be reprogrammed…
About the Author
Steven L. Kent has worked as a telemarketer, an adjunct college professor, a journalist, a professional video game player, a missionary, and a public relations manager. He is the author of seven previous novels.
Praise For The Clone Sedition (A Clone Republic Novel #8)…
Praise for the Clone Republic novels

"If you enjoy military science fiction, then this is the book for you . . . Fast paced and hard hitting. Punches, bullets, and nuclear bombs are not held back. The characters face hard choices and don't regret them after they are made."—SFRevu

"Offers up stunning battle sequences, intriguing moral quandaries, and plenty of unexpected revelations . . . [a] fast-paced military SF book with plenty of well-scripted action and adventure [and] a sympathetic narrator."—SF Site

"Exciting space battles [and] haunting, quiet moments after war has taken its toll . . . Military SF fans looking for stories that combine mystery, action, espionage, politics, and some thoughtful doses of humanism in exploring their not-entirely-human characters, would do well to add Steven L. Kent to their reading lists."—SF Reviews.net

"Harris is an honest, engaging protagonist and thoughtful narrator, and Kent's clean, transparent prose fits well with both the main character and the story's themes . . . Kent is a skillful storyteller, and the book entertains throughout." —Sci Fi Weekly

"The first sentence gets you immediately . . . From there, the action begins fast and furious with dark musings, lavish battle scenes, and complex characterizations . . . taut writing and a truly imaginative plot full of introspection and philosophizing."—The Village Voice