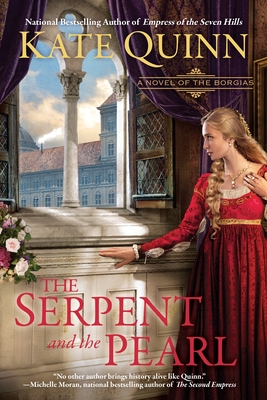 The Serpent and the Pearl (A Novel of the Borgias #1)
Paperback

* Individual store prices may vary.
Other Editions of This Title:
Digital Audiobook (8/5/2013)
Description
A gripping novel about history's most infamous family—The Borgias—and an innocent girl pulled into their treacherous rise to power, from the New York Times bestselling author of The Alice Network and The Diamond Eye.

Rome, 1492. The Holy City is drenched with blood and teeming with secrets. A pope lies dying and the throne of God is left vacant, a prize awarded only to the most virtuous—or the most ruthless. The Borgia family begins its legendary rise, chronicled by an innocent girl who finds herself drawn into their dangerous web…

Vivacious Giulia Farnese has floor-length golden hair and the world at her feet: beauty, wealth, and a handsome young husband. But she is stunned to discover that her glittering marriage is a sham, and she is to be given as a concubine to the ruthless, charismatic Cardinal Borgia: Spaniard, sensualist, candidate for Pope—who is passionately in love with her.

Two trusted companions will follow her into the Pope's shadowy harem: Leonello, a cynical bodyguard bent on bloody revenge against a mysterious killer, and Carmelina, a fiery cook with a past full of secrets. But as corruption thickens in the Vatican and the enemies begin to circle, Giulia and her friends will need all their wits to survive in the world of the Borgias.
Praise For The Serpent and the Pearl (A Novel of the Borgias #1)…
"A masterful storyteller." —Margaret George


The novels of Kate Quinn are…

"Full of great characters."—Diana Gabaldon, #1 New York Times bestselling author

"Epic, sexy."—Publishers Weekly (starred review)

"Deeply passionate."—Kate Furnivall, New York Times bestselling author

"A riveting plunge into an ancient world."—C. W. Gortner, author of The Vatican Princess
Berkley, 9780425259467, 432pp.
Publication Date: August 6, 2013
About the Author
Kate Quinn is a native of Southern California. She attended Boston University, where she earned a Bachelor's and Master's degree in Classical Voice. A lifelong history buff, she has written four novels in the Empress of Rome Saga and two Novels of the Borgias, before moving to the 20th century with the The Alice Network. All her books have been translated into multiple languages.
Which character most suitably earns the title of Serpent? The Pearl? Why?
Carmelina Mangano opens the novel. Already in the opening pages, it is noted that Carmelina possesses a cook's nose. How does her talent as a cook change her character? Her life?
Many characters in the book are based on real people involved with the Borgias. Did you have any preconceptions of the Borgia family that shaped your expectations of the story?
How does the relationship between Giulia and Lucrezia grow or change throughout the book? Do you have any sympathy for Vannozza dei Cattanei? Why or why not?
On page 106, Madonna Adriana explains, "My boy [Orsino] will need help if he's to get on as he should," in response to Giulia's accusation that she is a terrible mother. Do you understand her choices or do you find them inexcusable?
Giulia's mother told her that a woman has three possible fates: "Wife, nun—or whore. And once you've chosen, there's no changing it" (p. 119). Carmelina disagrees. Discuss the female characters and assign each the label of 'wife,' 'nun,' or 'whore.' Why did you choose what you did? Do you agree with Giulia's mother or Carmlina? Why?
How is Madonna Adriana's relationship with Rodrigo Borgia (her cousin) similar to Giulia's with Sandro or Carmelina's with Marco? How do the three women manage the men who control their lives, when it comes to getting their own way?
Once Leonello was named Giulia's bodyguard, all three narrators had a chance to meet for the first time in Carmelina's kitchen. What did you suspect would become of them? How did you think they would interact?
During Lucrezia's bridal processional to the Vatican, Leonello reflects on the crowd: "They would be pleased by the pomp, dazzled rather than offended. The Borgias, in the eyes of most of the world including themselves, had been put upon the earth by God to lead sumptuous lives on behalf of the masses. Their pomp was God's will" (p. 169). How is this similar to the way our modern culture idolizes celebrities?
Leonello is ashamed of himself when he finds cheer in the fact that the fruit vendor, Eleonora, was also staked. Were you happy that this storyline was continued? Did you suspect Cesare?
Leonello observes that "the degree to which women kiss and coo, I've found, is in direct proportion to the degree in which they dislike each other" (p. 311). Do you agree? How do Giulia and Carmelina relate differently to other women, from their very different stations in life? How do they relate to each other?
Giulia doesn't walk in her brother's funeral procession in Capodimonte because, "that wasn't how things were done here" (p. 327). Would you prefer Giulia live in the country where she's vilified or in the city where her relationship with the Pope removes her from judgment? How do these distinctions affect the story?
Do you suspect that Rodrigo cares to save Giulia once she's captured by the French? Why or why not?
Giulia reflects on the difference between passion and love, declaring that Rodrigo and Orsino both feel passion for her but not love. Do you agree? Are any of the female characters capable of inspiring love?