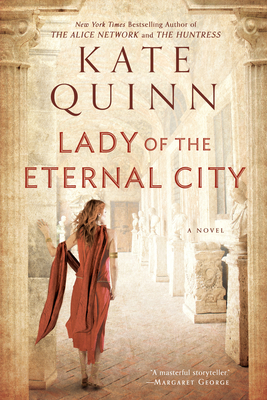 Lady of the Eternal City (Empress of Rome #4)
Paperback

* Individual store prices may vary.
Other Editions of This Title:
Digital Audiobook (4/20/2015)
MP3 CD (4/21/2015)
Compact Disc (4/21/2015)
Description
From the New York Times and USA Today bestselling author of The Alice Network and The Diamond Eye comes a historical saga about obsession, betrayal, and destiny. 
 
Sabina may be Empress of Rome, but she still stands poised on a knife's edge. She must keep the peace between two deadly enemies: her husband Hadrian, Rome's brilliant and sinister Emperor; and battered warrior Vix, her first love. But Sabina is guardian of a deadly secret: Vix's beautiful son Antinous has become the Emperor's latest obsession.

Empress and Emperor, father and son will spin in a deadly dance of passion, betrayal, conspiracy, and war. As tragedy sends Hadrian spiraling into madness, Vix and Sabina form a last desperate pact to save the Empire. But ultimately, the fate of Rome lies with an untried girl, a spirited redhead who may just be the next Lady of the Eternal City....
Praise For Lady of the Eternal City (Empress of Rome #4)…
Kate Quinn's Empress of Rome saga is…
 
"Gorgeously wrought."— C. W. Gortner, author of The Queen's Vow
 
"Deeply passionate."—Kate Furnivall, author of Shadows on the Nile
 
"[An] epic, sexy romp."—Publishers Weekly (starred review)
Berkley, 9780425259634, 528pp.
Publication Date: March 3, 2015
About the Author
Kate Quinn is a native of Southern California. She attended Boston University, where she earned a Bachelor's and Master's degree in Classical Voice. A lifelong history buff, she has written four novels in the Empress of Rome Saga and two Novels of the Borgias, before moving to the 20th century with the The Alice Network. All her books have been translated into multiple languages.
The novel opens in A.D. 118, as Hadrian enters Rome for the first time as its new Emperor. Given Hadrian's initial popularity, were you surprised when he immediately orders a series of judicial executions? Did you carry any expectations about his character from reading the previous book, Empress of the Seven Hills?
Sabina's role as Hadrian's wife presents her with what she feels is a moral obligation to influence her husband toward good impulses rather than bad ones. How realistic is it for a person to try to change or influence her spouse?
The love affair between Hadrian and Antinous could be compared to other tragic lovers of literature and history: Romeo and Juliet, Tristan and Iseult, Antony and Cleopatra. Yet their relationship has not attained that epic status. Discuss.
Vix is torn between his barbarian/slave roots and his duty to Rome. Did you respect his decision to stay loyal to the Roman army, even as Rome's war with Judaea eventually destroyed his family?
Annia enjoys a level of freedom unusual for a patrician Roman girl. To what extent does her running represent her longing for a fuller life than that of an aristocratic heiress?
The death of Antinous on the Nile remains one of the great unsolved mysteries of the ancient world. Were you satisfied with the solution presented here? Discuss how the historical Antinous might have met his end: sacrifice, accident, murder, or suicide.
Rather than seeing her new position as Empress as a chance to enjoy status and power, Sabina is horrified at what she feels will be the curtailment of her freedom. Is her reaction surprising? How valid are her fears? Is her role as Empress similar to the role of a modern political wife?
Hadrian's overwhelming love for a young man, Antinous, which he expresses openly, was a Roman scandal. How different would public reaction be today if a similar situation (a relationship between a powerful politician and a same-sex, much younger lover) was made public?
Vix is appalled that his son plays what is considered the "woman's role" in his relationship with Hadrian. How does ancient Roman prejudice against homosexuality differ from the prejudice gays and lesbians face today? How is it the same?
Mirah's devotion to the Jewish cause creates a rift between Vix and herself which effectively ends their relationship. Did you find it surprising that religion and politics proved the death blow to their marriage, rather than Vix's complicated feelings for Sabina? Which relationship were you rooting for?
Marcus Aurelius will grow up to pen a famous work of philosophy, The Meditations, which are still widely read today. Can you see signs of a budding philosopher in the young Marcus?
Emperor Hadrian believes that he is not a good man. By the end of the book, Sabina and Vix disagree. Did you believe in Hadrian's redemption? If so, what truly enabled it: Antinous's love, Sabina's advice, or Vix's reluctant friendship?