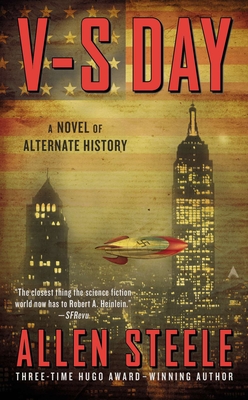 V-S Day (Mass Market)
Ace, 9780425259757, 320pp.
Publication Date: December 30, 2014
Other Editions of This Title:
Hardcover (2/4/2014)
MP3 CD (6/21/2016)
* Individual store prices may vary.
Description
Three-time Hugo Award–winning author Allen Steele imagines an alternate history rooted in an actual historical possibility: What if the race to space had occurred in the early days of World War II?

It's 1941, and Wernher von Braun is ordered by his fuhrer to abandon the V-2 rocket and turn German resources in a daring new direction: construction of a manned orbital spacecraft capable of attacking the United States. When the top secret plan is leaked to Franklin Roosevelt, the president has only one logical response: The United States must build their own spacecraft to destroy it. Robert Goddard, inventor of the liquid-fuel rocket, agrees to head the classified project.

So begins a race against time between two secret military programs and two brilliant scientists whose high-stakes competition will spiral into a deadly game of political intrigue and unforeseen catastrophes played to the death in the brutal skies above America.
About the Author
Allen Steele is the three-time Hugo Award-winning author of Coyote Destiny, Coyote Horizon, Coyote, and Coyote Rising. Originally a journalist who covered the space program, Steele later turned to fiction writing and his first novel, Orbital Decay, was chosen Best First Novel of the Year by Locus. Allen himself went on to be twice nominated for the John W. Campbell award for Best New Writer. In 2013, he received the Robert A. Heinlein Award for outstanding published works in science fiction. He and his wife, Linda, who is a DJ, now live in Massachusetts.
Praise For V-S Day…
Praise for Allen Steele

"Would make Robert A. Heinlein proud."—Entertainment Weekly

"One of the field's very finest writers." —Robert J. Sawyer, Nebula Award–winning author

"Allen Steele is among the best."—St. Louis Post-Dispatch

"Allen Steele is always good."—Kevin J. Anderson, New York Times bestselling author

"The closest thing the science fiction world now has to Robert A. Heinlein."—SFRevu

And Praise for VS Day

"Filled with fascinating minutiae of the early days of modern rocketry and exceptional characterization."—Booklist

"Awesome, meticulous attention to scientific details, engineering protocols, bureaucratic procedures, and international politics."—Locus

"A searing blast of 'what if.'"—SFFWorld.com

"Thoughtful and fascinating, as entertaining and well-executed an alternate history as you're going to find. It's subtle and ultimately successful, demonstrating once again that you can take a tiny moment, alter a simple decision, and end up with something new and interesting. This, like anything, shows why Steele's a multiple Hugo winner, and why he remains relevant."—Tor.com