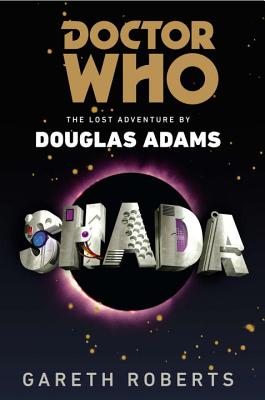 Doctor Who
Shada: The Lost Adventure by Douglas Adams
Hardcover

* Individual store prices may vary.
Other Editions of This Title:
Paperback (1/7/2014)
Description
From the unique mind of Douglas Adams, legendary author of The Hitchhiker's Guide to the Galaxy, comes  Shada, a Doctor Who story scripted for the television series Doctor Who, but never produced--and now, transformed into an original novel...

A little knowledge is a dangerous thing
Imagine how dangerous a LOT of knowledge is...

The Doctor's old friend and fellow Time Lord Professor Chronotis has retired to Cambridge University, where among the other doddering old professors nobody will notice if he lives for centuries. He took with him a few little souvenirs--harmless things really. But among them, carelessly, he took The Worshipful and Ancient Law of Gallifrey. Even more carelessly, he has loaned this immensely powerful book to clueless graduate student Chris Parsons, who intends to use it to impress girls. The Worshipful and Ancient Law is among the most dangerous artifacts in the universe; it cannot be allowed to fall into the wrong hands.

The hands of the sinister Time Lord Skagra are unquestionably the wrongest ones possible. Skagra is a sadist and an egomaniac, bent on universal domination. Having misguessed the state of fashion on Earth, he also wears terrible platform shoes. He is on his way to Cambridge. He wants the book. And he wants the Doctor...
Praise For Doctor Who: Shada: The Lost Adventure by Douglas Adams…
Praise for DOCTOR WHO: SHADA

"[Roberts] does a great job of maintaining Douglas Adams' voice throughout the story, with his trademark satire and humor firmly in place . . .  fans of Doctor Who will enjoy this little trip back into that world."— Wired.com

"[A]n entertaining read . . . and anyone who enjoys both the big heart and boundless silliness of Dooctor Who will be pleased."— io9.com

"[S]pectacular. Gareth Roberts has done a remarkable job of channeling the vision of Douglas Adams . . . not only Doctor Who fans will enjoy it, but I think Sci-Fi and Hitchhiker fans will love it as well."— GeeksofDoom.com
Ace, 9780425259986, 400pp.
Publication Date: June 26, 2012
About the Author
Douglas Adams was born in Cambridge in 1952, and was educated at Brentwood School, Essex and St. John's College, Cambridge, where he read English. As well as writing all the different and conflicting versions of The Hitchhiker's Guide to the Galaxy, he has been responsible for Dirk Gently's Holistic Detective Agency, The Long Dark Tea-Time of the Soul, and, with John Lloyd, The Meaning of Liff and The Deeper Meaning of Liff. In 1978-79, he worked as Script Editor on Doctor Who. He wrote three scripts for the show: "The Pirate Planet," "City of Death" [under the name David Agnew], and "Shada." Adams died in May 2001. Gareth Roberts was born in Chesham, Buckinghamshire in 1968. His scripts for Doctor Who on television include "The Shakespeare Code," "The Unicorn and the Wasp," "The Lodger," and "Closing Time." He has also written many scripts for the spin-off series, The Sarah Jane Adventures, as well as scripts for such television shows as Emmerdale and Randall & Hopkirk [Deceased]. He has written nine previous Doctor Who novels, and lives in West London. 
or
Not Currently Available for Direct Purchase