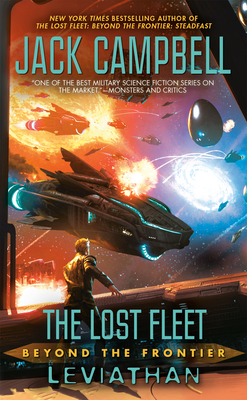 The Lost Fleet (Mass Market)
Beyond the Frontier: Leviathan
Ace, 9780425260555, 352pp.
Publication Date: April 26, 2016
* Individual store prices may vary.
Description
Admiral John "Black Jack" Geary embarks on a brand-new mission—to defend the Alliance from itself—in New York Times bestselling author Jack Campbell's latest action-packed novel…

Two Syndicate Worlds star systems have fallen prey to a mysterious fleet of warships—a fleet controlled entirely by artificial intelligence—that is now targeting Alliance space. The warships are no mystery to Admiral John "Black Jack" Geary. They were developed by his government to ensure security, but malfunctioned. If the Syndics learn the truth, the war with the Alliance will resume with a vengeance.
 
As the government attempts to conceal the existence of the AI warships—and its role in their creation—Geary pursues them, treading a fine line between mutiny and obedience. But it soon becomes clear that his fleet is no match for the firepower of the machine-piloted armada.
 
With the help of the Dancer species of aliens, Geary has tracked the AI ships to their secret base in the supposedly mythical Unity Alternate star system, where his fleet, the last hope for the Alliance's future, will end the conflict at any cost…
About the Author
"Jack Campbell" is the pen name of John G. Hemry, a retired naval officer who graduated from the U.S. Naval Academy in Annapolis before serving with the surface fleet and in a variety of other assignments. He is the author of The Lost Fleet series and the spin-off Lost Stars series, as well as the Stark's War series and the Paul Sinclair series. His short fiction appears frequently in Analog magazine. He lives with his indomitable wife and three children in Maryland.
Praise For The Lost Fleet: Beyond the Frontier: Leviathan…
"Campbell combines the best parts of military SF and grand space opera…Geary's Star Trek–like mission of exploration sets the fleet up for plenty of exciting discoveries and escapades."—Publishers Weekly
 
"Rousing military-SF action."—Sci Fi Weekly
 
"This series is the best military SF I've read in some time."—GeekDad