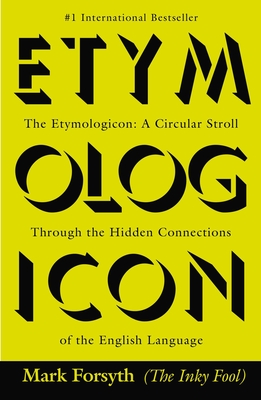 The Etymologicon (Paperback)
A Circular Stroll Through the Hidden Connections of the English Language
Berkley, 9780425260791, 304pp.
Publication Date: October 2, 2012
* Individual store prices may vary.
Description
Do you know why…
…a mortgage is literally a death pledge? …why guns have girls' names? …why salt is related to soldier?
You're about to find out…
The Etymologicon (e-t?-'mä-lä-ji-kän) is:
*Witty (wi-te\): Full of clever humor
*Erudite (er-?-dit): Showing knowledge
*Ribald (ri-b?ld): Crude, offensive


The Etymologicon is a completely unauthorized guide to the strange underpinnings of the English language. It explains: how you get from "gruntled" to "disgruntled"; why you are absolutely right to believe that your meager salary barely covers "money for salt"; how the biggest chain of coffee shops in the world (hint: Seattle) connects to whaling in Nantucket; and what precisely the Rolling Stones have to do with gardening.
About the Author
Mark Forsyth is a writer, journalist, proofreader, ghostwriter, and pedant. He was given a copy of the Oxford English Dictionary as a christening present and has never looked back. He is the creator of The Inky Fool, a blog about words, phrases, grammar, rhetoric, and prose.
Praise For The Etymologicon: A Circular Stroll Through the Hidden Connections of the English Language…
"The stocking filler of the season...how else to describe a book that explains the connection between Dom Perignon and Mein Kampf."--The Observer

"Crikey...this is addictive!"--The Times

"Mark Forsyth is clearly a man who knows his onions."--Daily Telegraph