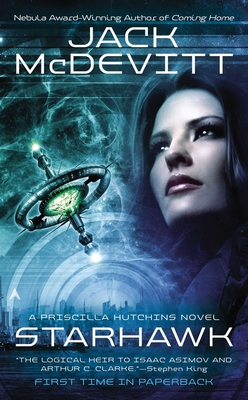 Starhawk (A Priscilla Hutchins Novel #1) (Mass Market)
Ace, 9780425260869, 400pp.
Publication Date: October 28, 2014
* Individual store prices may vary.
Description
Priscilla Hutchins has been through many experiences.
This is the story of her first unforgettable adventure…
 
Priscilla "Hutch" Hutchins has finally completed a nerve-bending qualification flight for her pilot's license. But faster-than-light travel is still a new reality, and the World Space Authority is still learning how to manage long-range missions safely. To make matters worse, efforts to prepare two planets for colonization are killing off native life-forms, outraging people on Earth.
 
With low demand for space pilots, Priscilla finds a job on the bridge of an interstellar ship, working for the corporation that is responsible for the terraforming. Her work conditions include bomb threats, sabotage, clashes with her employers—and a mission to a world, adrift between the stars, that harbors a life-form unlike anything humanity has ever seen...
 
About the Author
Jack McDevitt is a former naval officer, taxi driver, English teacher, customs officer, and motivational trainer, and is now a full-time writer of novels, including the Alex Benedict series (Coming Home, Firebird) and the Priscilla Hutchins series. He is also the co-author of The Cassandra Project with Mike Resnick. Jack's novel Seeker won a Nebula Award, and he is a multiple Nebula Award finalist. He lives in Georgia with his wife, Maureen.
Praise For Starhawk (A Priscilla Hutchins Novel #1)…
"The logical heir to Isaac Asimov and Arthur C. Clarke."—Stephen King

"An action-packed prequel taking us back to the roots of Hutchins' love of space. Throughout, McDevitt ramps up the tension."—Florida Times-Union
 
"You should definitely read Jack McDevitt."—Gregory Benford

"If you're a fan of the Academy series, definitely check it out."—Making It Up As I Go
 
"Takes off like a shot…I was literally unable to put the book down…a fascinating story with exceptional storytelling and extremely believable world building."—My Shelf Confessions
 
"All the things one has come to expect from one of Jack McDevitt's novels…plenty of cool ideas."—SF Site
 
"I had so much fun with Starhawk…It wasn't just the plot that engaged me, it was the character and the setting and the whole package."—Bibliosanctum (5 out of 5 stars)