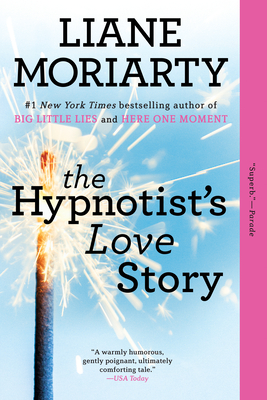 The Hypnotist's Love Story
Paperback

* Individual store prices may vary.
Other Editions of This Title:
Digital Audiobook (6/13/2012)
Paperback (3/27/2018)
Description
A "sharp and funny romantic tale" (O, the Oprah Magazine) from the #1 New York Times bestselling author of Big Little Lies, Nine Perfect Strangers and Apples Never Fall.

Ellen O'Farrell is a professional hypnotherapist who works out of the eccentric beachfront home she inherited from her grandparents. It's a nice life, except for her tumultuous relationship history. She's stoic about it, but at this point, Ellen wouldn't mind a lasting one. When she meets Patrick, she's optimistic. He's attractive, single, employed, and best of all, he seems to like her back. Then comes that dreaded moment: He thinks they should have a talk.

Braced for the worst, Ellen is pleasantly surprised. It turns out that Patrick's ex-girlfriend is stalking him. Ellen thinks, Actually, that's kind of interesting. She's dating someone worth stalking. She's intrigued by the woman's motives. In fact, she'd even love to meet her.

Ellen doesn't know it, but she already has.
Praise For The Hypnotist's Love Story…
"The Hypnotist's Love Story is an intensely absorbing, excellently written tale that turns Fatal Attraction on its head—finally! Told with wit, charm, empathy, and plenty of suspense, you'll regret turning the pages so fast to find out how it ends. Loved it!"—Sarah Strohmeyer, bestselling author of Kindred Spirits and The Cinderella Pact

"Spellbinding! Reading Liane Moriarty is like spending the afternoon with a wise, witty, comforting friend. I could not put it down!"—Beth Harbison, author of Always Something There to Remind Me

"[A] smart romance…a fresh spin on grappling with misplaced passion."—Good Housekeeping

"A witty modern love story in the age of cohabitation, blended families, and second chances, this is a compassionate, absorbing tale. Moriarty has crafted an incredibly likable heroine in Ellen, the hypnotherapist who can solve her clients' problems but can't seem to keep her own life from spiraling into soap opera. Readers who enjoy Jennifer Close and Marian Keyes will adore Moriarty's wit and warmth."—Booklist (starred review)

"A warmly humorous, gently poignant, ultimately comforting tale of frustration and redemption...Moriarty writes with both a frisky wit and a generosity of spirit that's truly disarming…It will make you feel warm all over."—USA Today

"Simply exquisite, fascinating (and frequently hilarious)…as much of a page-turner as any thriller."—Bookreporter

"Mesmerizing."–Family Circle

"This superb novel…examines misunderstandings—not just with lovers, but with friends, families and, perhaps most often, ourselves."—Parade
Berkley, 9780425260937, 480pp.
Publication Date: June 4, 2013
About the Author
Liane Moriarty is the #1 New York Times bestselling author of Nine Perfect Strangers, Three Wishes, Truly Madly Guilty, Big Little Lies, The Husband's Secret, The Hypnotist's Love Story, and What Alice Forgot. She lives in Sydney, Australia, with her husband and two children.
Ellen is intrigued rather than frightened when she discovers that Patrick has a stalker. Why do you think this is so? How do her personality, her upbringing, and/or her choice of career influence her reaction to this news?
Have you ever been treated by a hypnotherapist or seen a stage hypnotist perform? Would you consider doing either? Did you enjoy this aspect of the book?
One of the main themes of the novel is the difficulty we have in letting go of past relationships. Did this theme resonate with you? Have you ever been tempted to stalk an ex-partner? Do you know anyone who has resorted to stalking?
In what ways is the role of gender important to this book? In other words, if Patrick was a woman being stalked by her ex-boyfriend, would you view the situation differently?
Could you relate to Saskia? Did you feel compassion for her? Did your feelings toward her change by the time you finished the book?
Patrick is a flawed character. What did you think of his behavior toward Saskia? Were his actions understandable in light of the loss of his wife? If he'd handled their breakup more sympathetically, would Saskia perhaps not have resorted to stalking?
Ellen was brought up without a father. Do you think the lack of a male figure when she was a child contributed to her difficulties in sustaining a long-term relationship as an adult? How might her unique upbringing ("It was like growing up in a lesbian commune") have affected her relationships with men?
By hiding the identity of Patrick's stalker, The Hypnotist's Love Story borrows some elements of the thriller genre. Did you guess the stalker's identity? Did this mystery add to your enjoyment of the book?
What did you think of the author's decision to write from the perspectives of both Ellen and Saskia? Would you have felt differently about Saskia had you seen her only through Ellen's eyes?
Of all the characters in the book, which one developed most by the story's end? Or did all of the characters evolve noticeably, in their own ways? What do you think they learned from their shared experiences and from one another in this story?
What impact did Patrick's son, Jack, have on the story? Could you relate to Ellen's experiences as a stepmother? Would Saskia have behaved as she did if there had been no child involved?
Grief is an important theme of the book. Were Ellen's reactions to Patrick's conflicted feelings about Colleen understandable? Have you had any experiences dating someone who has been widowed? Do you think Saskia was, in a way, grieving more over the end of her relationship with Jack than over the end of her relationship with Patrick?